No matter what type of drink you typically order at the local coffee shop, the ECM Classika PID accurately reproduces it — often, faster than your favorite barista. From basic drinks like lattes and espressos to more involved specialty beverages, this baby does it all. The machine produces strong flavors and fluffy cremas. If you truly enjoy pulling espresso shots, the ECM Classika PID espresso machine is for you.
PID Temperature Control - PID allows the user to change the boiler temperature with the touch of a button. Without, you'd have to manually adjust the boiler using tools. Boiler temperature is essential to creating quality tasting espresso. Too hot or cold and your espresso with taste sour or bitter. PID allows you to adjust boiler temperature with ease and precision.

3 Liter Monitored Reservoir - The water reservoir holds an ample 3 liters of water and is fitted with a sensor that shuts off the machine at low volume to keep the machine from running dry.

Anti-Burn Steam and Hot Water Wand - To help prevent accidental burns, the dual purpose steam/hot water wand has been insulated to keep it from getting too hot too quickly. The wand sports a two-hole tip, ideal for frothing milk for lattes and cappuccinos. Hot water can be dispensed for drinks like tea and cocoa.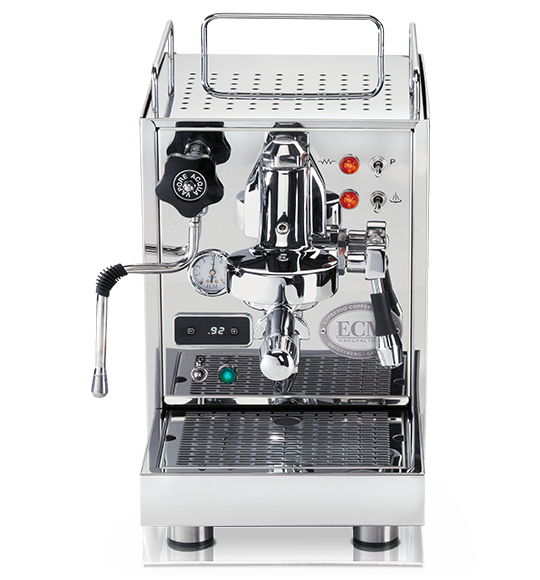 Vibratory Pump - While not as quiet as a rotary pump, vibratory pumps are an essential component to creating quality espresso at home. This feature allows the user to adjust brew pressure.

Programmable Dosing Volume - The programmable volumetric dosing feature allows you to program single & double shot buttons to dispense your desired amount of espresso. Simply program your desired quantities, push a button and go.

Single Boiler - If you're an espresso purist who likes the occasional cappuccino on the weekend a single boiler is the machine for you. Single boilers take less time to heat than their larger dual boiler and heat exchanger relatives. They also have smaller footprints and offer a more espresso focused experience.
Durable Stainless Steel Construction - The Classika PID is housed in polished stainless steel that is both tough as nails and easy on the eyes. ECM wasn't content with simply welding the drip tray onto the machine, it's actually part of the frame for enhanced durability and build quality.

Commercial Portafilter - One of the first things you'll notice about the portafilter is how balanced it feels in your hand. The weighted end offsets the weight of the basket, keeping you from having to overcompensate with your wrist. On par with commercial grade machines, the Classika's portafilter is made of chrome-plated brass for increased temperature stability.

Copper Plumbing - As an ECM machine, the Classika is fitted with copper water tubing as opposed to teflon or other plastics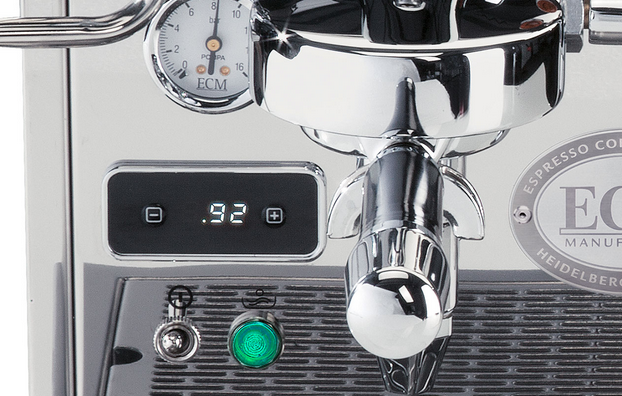 ECM Espresso Machine Comparison
Single boiler

Heat exchanger

Dual boiler

Model

Espresso machines
Casa V
Classika II
Classika PID
Barista
Mechanika V Slim
Technika IV
Mechanika IV Profi
Technika IV Profi
Elektronika II Profi
Synchronika
Controvento
ECM patented brew group

•

•

•

•

•

•

•

•

•

Vibration pump

•

•

•

•

•

•

Rotary pump

•

•

•

•

•

Fresh water tank
ca. 2.8 l
ca. 2.8 l
ca. 2.8 l
ca. 3 l
ca. 2.8
ca. 3 l
ca. 3 l
ca. 3 l
ca. 3 l
ca. 2.8 l
ca. 3 l
Switchable – water tank/ fi xed water connection

•

•

•

•

•

Automatic water shortage shut-off

•

•

•

•

•

•

•

•

•

•

Boiler
brass
stainless steel
stainless steel
copper
stainless steel
copper
stainless steel
stainless steel
stainless steel
stainless steel
stainless steel
Boiler volume
ca. 0.4 l
ca. 0.75 l
ca. 0.75 l
ca. 2.1 l
ca. 2.2 l 
ca. 2.1 l 
ca. 2.1 l
ca. 2.1 l
ca. 2.1 l
*ca. 0.75 l **ca. 2 
*ca. 0.75 l **ca. 2 l
Boiler insulation

•

•

•

•

•

•

•

•

•

•

•

Boiler pressure gauge

•

•

•

•

•

•

•

•

Pump pressure gauge

•

•

•

•

•

•

•

•

•

•

•

Manually adjustable brewing pressure

•

•

•

•

•

•

•

•

•

•

ECM portafi lters

•

•

•

•

•

•

•

•

•

•

No. of portafi lters
1
1
1
2
2
2
2
2
2
2
2
| | |
| --- | --- |
| | Single boiler |
| Model | |
| Espresso machines | Classika PID |
| ECM patented brew group | • |
| Vibration pump | • |
| Rotary pump | |
| Fresh water tank | ca. 2.8 l |
| Switchable – water tank/ fi xed water connection | |
| Automatic water shortage shut-off | • |
| Boiler | stainless steel |
| Boiler volume | ca. 0.75 l |
| Boiler insulation | • |
| Boiler pressure gauge | |
| Pump pressure gauge | • |
| Manually adjustable brewing pressure | • |
| ECM portafi lters | • |
| No. of portafi lters | 1 |
| | |
| --- | --- |
| | Single boiler |
| Model | |
| Espresso machines | Casa V |
| ECM patented brew group | |
| Vibration pump | • |
| Rotary pump | |
| Fresh water tank | ca. 2.8 l |
| Switchable – water tank/ fi xed water connection | |
| Automatic water shortage shut-off | |
| Boiler | brass |
| Boiler volume | ca. 0.4 l |
| Boiler insulation | • |
| Boiler pressure gauge | |
| Pump pressure gauge | • |
| Manually adjustable brewing pressure | • |
| ECM portafi lters | • |
| No. of portafi lters | 1 |
| | |
| --- | --- |
| | Single boiler |
| Model | |
| Espresso machines | Classika II |
| ECM patented brew group | • |
| Vibration pump | • |
| Rotary pump | |
| Fresh water tank | ca. 2.8 l |
| Switchable – water tank/ fi xed water connection | |
| Automatic water shortage shut-off | • |
| Boiler | stainless steel |
| Boiler volume | ca. 0.75 l |
| Boiler insulation | • |
| Boiler pressure gauge | |
| Pump pressure gauge | • |
| Manually adjustable brewing pressure | • |
| ECM portafi lters | • |
| No. of portafi lters | 1 |
| | |
| --- | --- |
| | Heat exchanger |
| Model | |
| Espresso machines | Barista |
| ECM patented brew group | |
| Vibration pump | • |
| Rotary pump | |
| Fresh water tank | ca. 3 l |
| Switchable – water tank/ fi xed water connection | |
| Automatic water shortage shut-off | • |
| Boiler | copper |
| Boiler volume | ca. 2.1 l |
| Boiler insulation | • |
| Boiler pressure gauge | • |
| Pump pressure gauge | • |
| Manually adjustable brewing pressure | |
| ECM portafi lters | |
| No. of portafi lters | 2 |
| | |
| --- | --- |
| | Heat exchanger |
| Model | |
| Espresso machines | Mechanika V Slim |
| ECM patented brew group | • |
| Vibration pump | • |
| Rotary pump | |
| Fresh water tank | ca. 2.8 |
| Switchable – water tank/ fi xed water connection | |
| Automatic water shortage shut-off | • |
| Boiler | stainless steel |
| Boiler volume | ca. 2.2 l  |
| Boiler insulation | • |
| Boiler pressure gauge | • |
| Pump pressure gauge | • |
| Manually adjustable brewing pressure | • |
| ECM portafi lters | • |
| No. of portafi lters | 2 |
| | |
| --- | --- |
| | Heat exchanger |
| Model | |
| Espresso machines | Technika IV |
| ECM patented brew group | • |
| Vibration pump | • |
| Rotary pump | |
| Fresh water tank | ca. 3 l |
| Switchable – water tank/ fi xed water connection | |
| Automatic water shortage shut-off | • |
| Boiler | copper |
| Boiler volume | ca. 2.1 l  |
| Boiler insulation | • |
| Boiler pressure gauge | • |
| Pump pressure gauge | • |
| Manually adjustable brewing pressure | • |
| ECM portafi lters | • |
| No. of portafi lters | 2 |
| | |
| --- | --- |
| | Heat exchanger |
| Model | |
| Espresso machines | Mechanika IV Profi |
| ECM patented brew group | • |
| Vibration pump | |
| Rotary pump | • |
| Fresh water tank | ca. 3 l |
| Switchable – water tank/ fi xed water connection | • |
| Automatic water shortage shut-off | • |
| Boiler | stainless steel |
| Boiler volume | ca. 2.1 l |
| Boiler insulation | • |
| Boiler pressure gauge | • |
| Pump pressure gauge | • |
| Manually adjustable brewing pressure | • |
| ECM portafi lters | • |
| No. of portafi lters | 2 |
| | |
| --- | --- |
| | Heat exchanger |
| Model | |
| Espresso machines | Technika IV Profi |
| ECM patented brew group | • |
| Vibration pump | |
| Rotary pump | • |
| Fresh water tank | ca. 3 l |
| Switchable – water tank/ fi xed water connection | • |
| Automatic water shortage shut-off | • |
| Boiler | stainless steel |
| Boiler volume | ca. 2.1 l |
| Boiler insulation | • |
| Boiler pressure gauge | • |
| Pump pressure gauge | • |
| Manually adjustable brewing pressure | • |
| ECM portafi lters | • |
| No. of portafi lters | 2 |
| | |
| --- | --- |
| | Heat exchanger |
| Model | |
| Espresso machines | Elektronika II Profi |
| ECM patented brew group | • |
| Vibration pump | |
| Rotary pump | • |
| Fresh water tank | ca. 3 l |
| Switchable – water tank/ fi xed water connection | • |
| Automatic water shortage shut-off | • |
| Boiler | stainless steel |
| Boiler volume | ca. 2.1 l |
| Boiler insulation | • |
| Boiler pressure gauge | • |
| Pump pressure gauge | • |
| Manually adjustable brewing pressure | • |
| ECM portafi lters | • |
| No. of portafi lters | 2 |
| | |
| --- | --- |
| | Dual boiler |
| Model | |
| Espresso machines | Synchronika |
| ECM patented brew group | • |
| Vibration pump | |
| Rotary pump | • |
| Fresh water tank | ca. 2.8 l |
| Switchable – water tank/ fi xed water connection | • |
| Automatic water shortage shut-off | • |
| Boiler | stainless steel |
| Boiler volume | *ca. 0.75 l **ca. 2  |
| Boiler insulation | • |
| Boiler pressure gauge | • |
| Pump pressure gauge | • |
| Manually adjustable brewing pressure | • |
| ECM portafi lters | • |
| No. of portafi lters | 2 |
| | |
| --- | --- |
| | Dual boiler |
| Model | |
| Espresso machines | Controvento |
| ECM patented brew group | • |
| Vibration pump | |
| Rotary pump | • |
| Fresh water tank | ca. 3 l |
| Switchable – water tank/ fi xed water connection | • |
| Automatic water shortage shut-off | • |
| Boiler | stainless steel |
| Boiler volume | *ca. 0.75 l **ca. 2 l |
| Boiler insulation | • |
| Boiler pressure gauge | • |
| Pump pressure gauge | • |
| Manually adjustable brewing pressure | • |
| ECM portafi lters | • |
| No. of portafi lters | 2 |