The compact size, optimized chassis, outstanding features and quality, and large boiler make the Rocket Appartamento a great fit for people looking for the best espresso at home in a small package. The steaming performance and the E61 Group ensure the espresso is as good as it gets.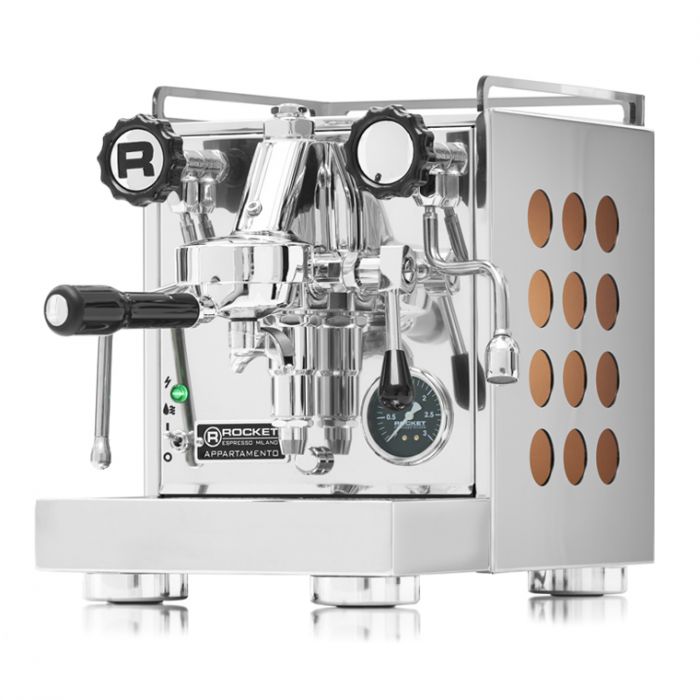 1.8 Liter Heat Exchanging Copper Boiler: Heat exchanging is pretty standard for Rocket Espresso Machines. Heat exchanging machine will allow you to steam milk and brew espresso shots simultaneously. Designed for consistency, and will deliver consistent espresso shots all day long.
Reimagined E61 Brew Group - In a traditional E61 brew group, hot water is constantly circulated between the boiler and brew-group to ensure proper brewing temperature. Rocket incorporates a dual pre-infusion system into their E61, which consists of a chamber and mechanical working piston, to aid the extraction and ensure the grounds are fully saturated upon brewing.
Vibratory Pump: Durable, consistent and economical, vibratory pumps are the most common pump found in home espresso machines. The only downside is the noise level. The quality of espresso, however, is more consistent on a vibratory pump espresso machines.
2.5 Liter Removable Water Tank: The Rocket Espresso Appartamento is not plumbable. It does, however, come with a large 2.5 liter removable water tank.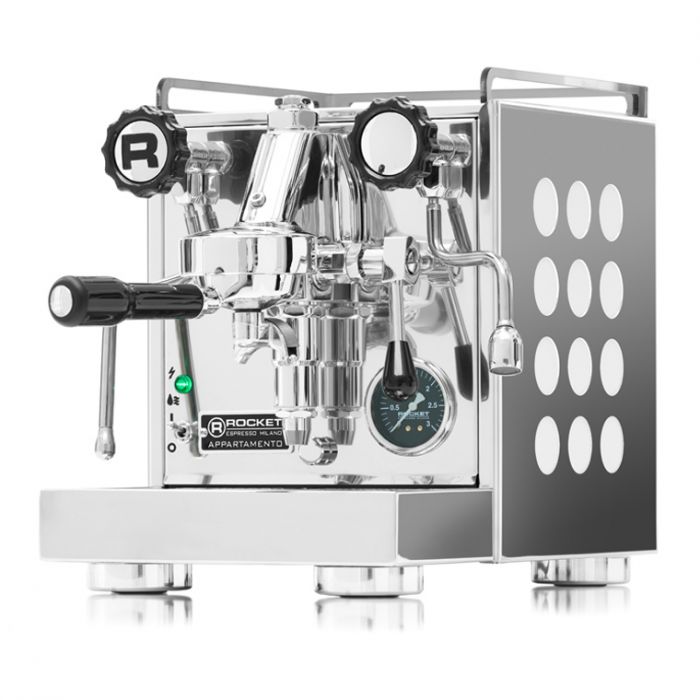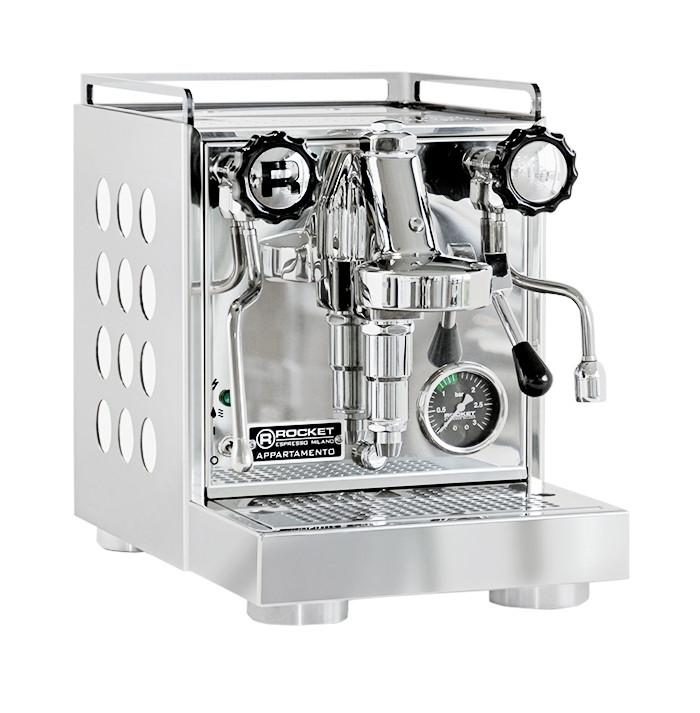 Compact Design: Rocket Espresso had one thing in mind when designing the Appartamento - reduced size without sacrificing quality. Compared to other Rocket models, the Appartamento is more compact.
Dimensions: 27cm W x 43cm D x 36cm H including cup frame surround. Ideal for anyone working with low-hanging cabinets or limited counter space. The Rocket Appartamento will look stunning in your coffee corner but won't take up an unnecessary amount of space.
No Milk Burn Steam Nozzle - The wand is double wall build to reduce the temperature of the wand to prevent burning the milk for a optimal steaming results. You still won't want to touch this thing after use. It's still relatively hot.
Boiler Pressure Gauge: Conveniently located on the front of the machine, you can track your boilers pressure during use.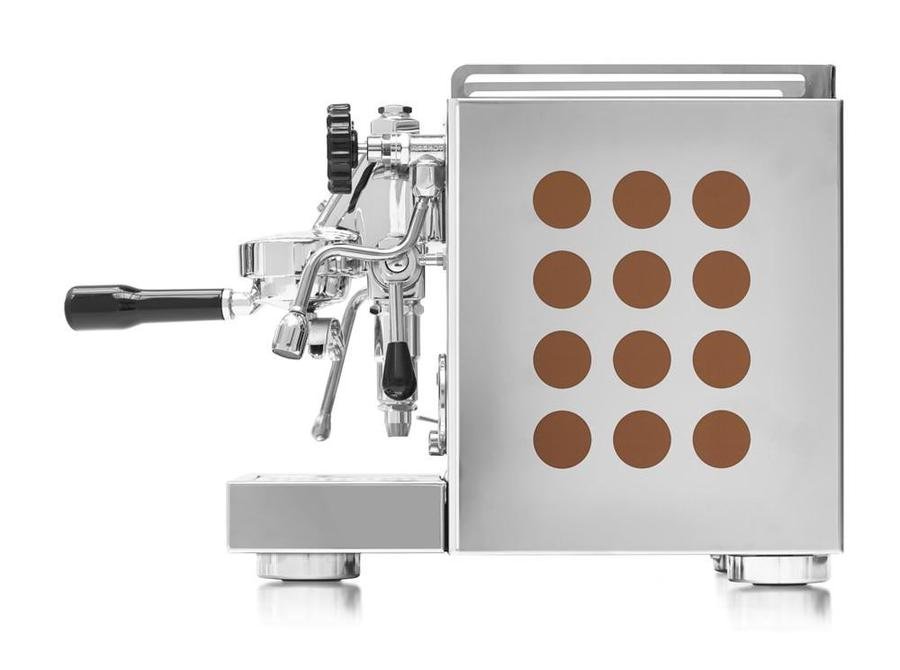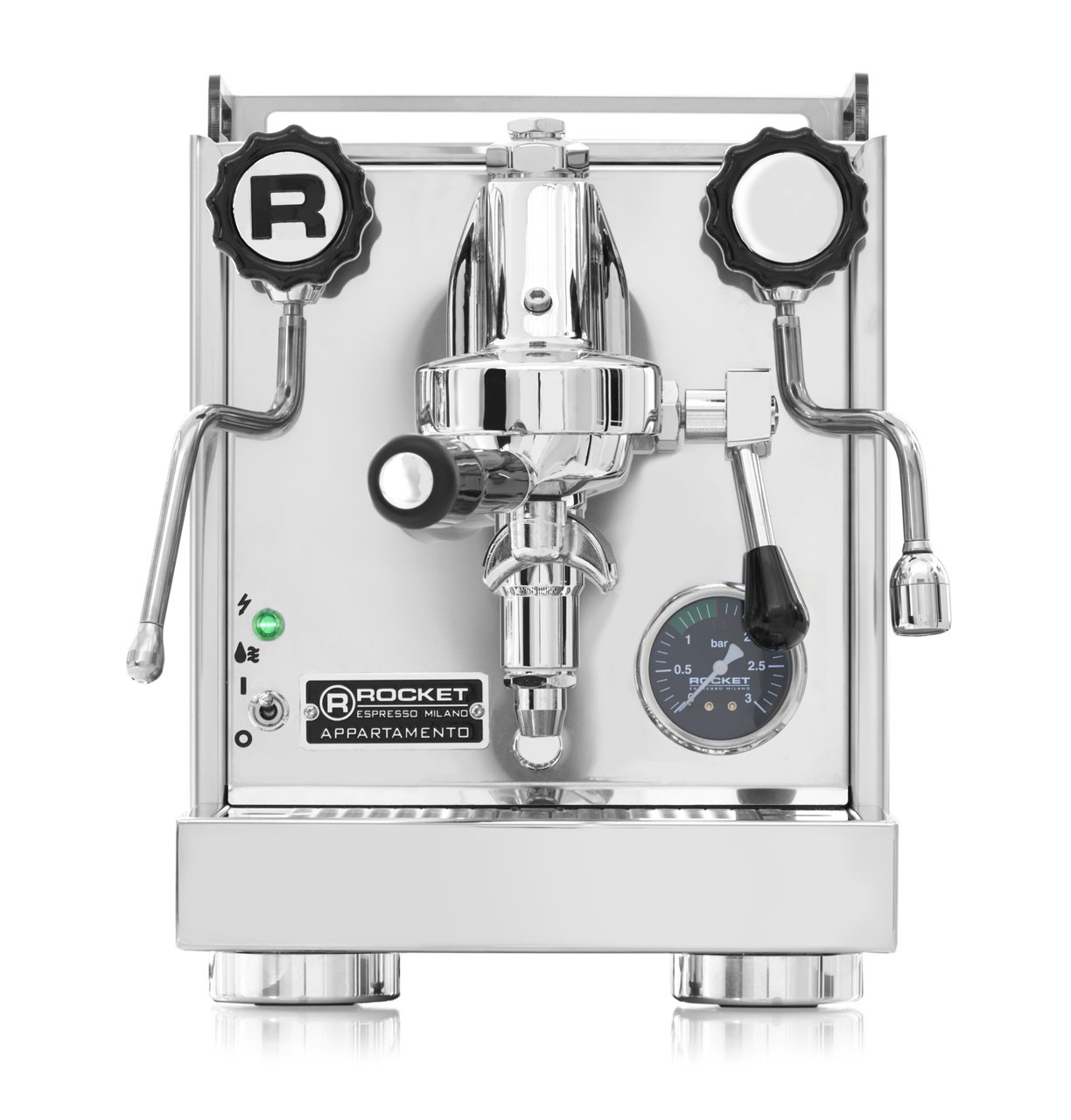 Style: The Appartamento is one instagramable espresso machine. Featuring an all stainless steel body and either copper or white side paneling, the Rocket Appartamento is a stud. Place it in your coffee corner and watch the compliments pour over.
Shot Quality: Shot quality on the Appartamento is impressive. Brewing shots with this lever machine is also incredibly easy. The Appartamento, unlike other Rockets, only contains one gauge - a boiler pressure gauge, which is great for brewing.
Metal Tamper Included: The Rocker include a great quality Rocket Espresso metal tamper.