Made for home barista fanatics, the ECM Synchronika machine combines an amazing experience and great quality which makes the pursuit of excellence easily maintained. You will love the combination of sophisticated German design and traditional Italian-style heritage which ECM Synchronika offers.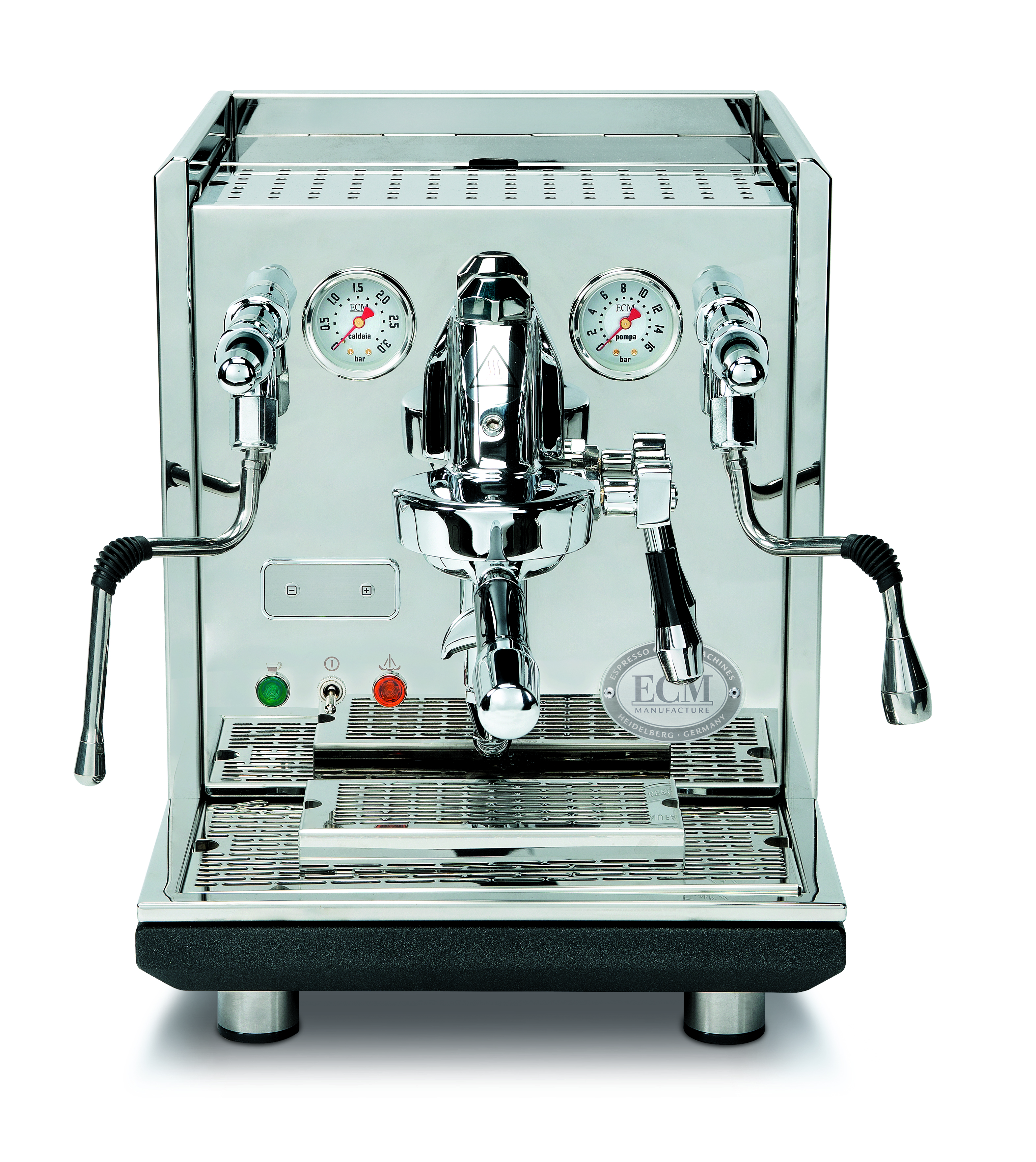 Thermosyphon System - This system keeps water flowing from the boiler to the brew group to keep it heated which is an essential component to consistently warm espresso. In addition, it helps your coffee grounds or "puck" to be easily emptied after use.
E61 Heated Brew Head - The E61 is the standard when it comes to brew heads. Typically found on commercial machines, the E61 will ensure consistently warm espresso shots time after time.
Double Boiler - The Synchronika have dual boiler dedicated brew and steam, allowing you to pull shots and steam milk at the same time, making for an efficient and streamlined experience. With independent temperature control, you can also dial in the perfect temperature to make your roast of choice shine. 
PID Controller - Control boiler temperature for searching out those elusive coffee flavors. The integrated shot timer compliments this by giving you a live readout of how long you've been pulling your shot. With the upgraded PID, the Synchronika can reach an industry-leading 2 bar of pressure.
Joystick Style Knobs - Joystick-operated valves make steam and hot water dispensing instant on and off. Simply flick the steam valve when the milk reaches the optimum temperature, and the valve will spring closed. These non-compression valves are a very durable and easy to maintain design.
Water Sensor - Level control cuts the power circuit if water is low, with a microprocessor that automatically controls the level of the water tank and boiler. A low water level warning will tell you when you need to refill. Please note: for proper operation it is a must to use water with mineral content.
Shot Timer - Synchronika has a shot timer which measure the brew time from the time the pump is activated. This information is extremely helpful for dialing in an espresso grinder to the ideal 25-second 45 ml shot, and maintaining consistency.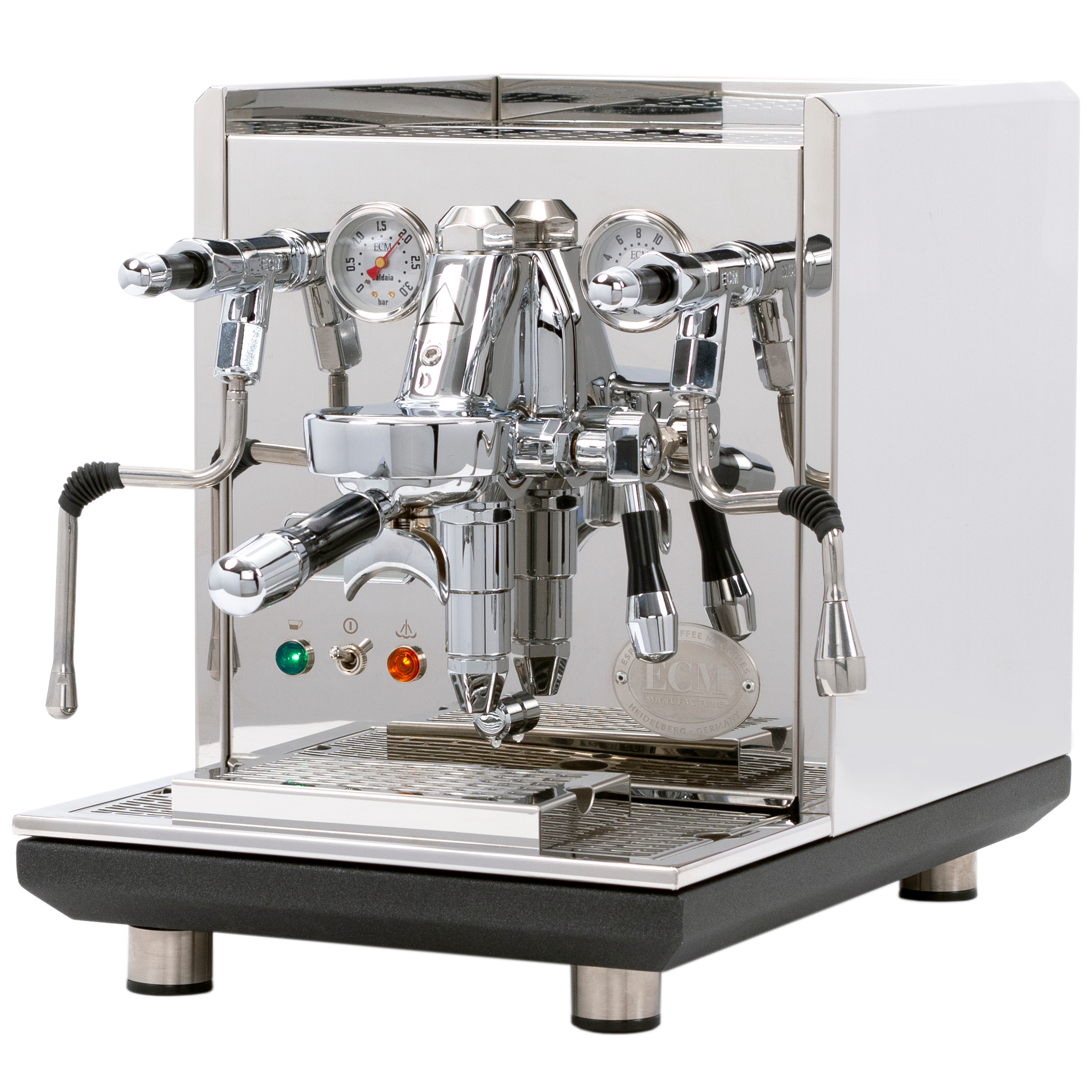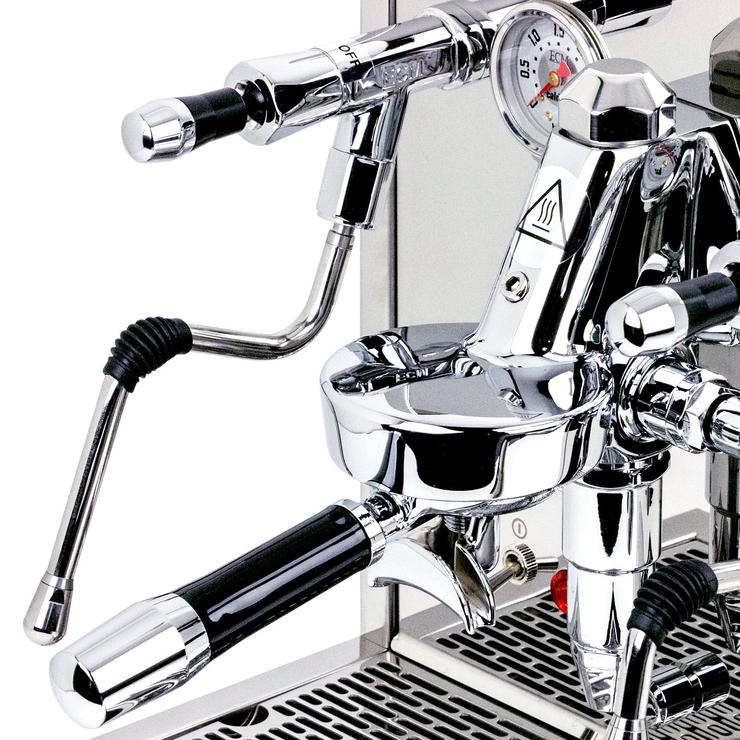 Switchable Water Supply - Depending on how your kitchen is configured, the Synchronika can draw water from its 3 liter reservoir, or be directly plumbed into a water line for a constant supply. To select your preferred water source, the machine is fitted with a switch located behind the drip tray.
Durability - Designed in Germany out of the finest stainless steel (heavy-duty polished 304), ECM espresso machines are built to last and withstand the wear and tear of a busy kitchen.
No Milk Burn Steam Nozzle - The wand is double wall build to reduce the temperature of the wand to prevent burning the milk for a optimal steaming results. You still won't want to touch this thing after use. It's still relatively hot.
Comes with Accessories - The Synchronika espresso machine comes with a single and double portafilter, a single and double shot baskets, a tamper and a set of manuals.
ECM Espresso Machine Comparison
Single boiler

Heat exchanger

Dual boiler

Model

Espresso machines
Casa V
Classika II
Classika PID
Barista
Mechanika V Slim
Technika IV
Mechanika IV Profi
Technika IV Profi
Elektronika II Profi
Synchronika
Controvento
ECM patented brew group

•

•

•

•

•

•

•

•

•

Vibration pump

•

•

•

•

•

•

Rotary pump

•

•

•

•

•

Fresh water tank
ca. 2.8 l
ca. 2.8 l
ca. 2.8 l
ca. 3 l
ca. 2.8
ca. 3 l
ca. 3 l
ca. 3 l
ca. 3 l
ca. 2.8 l
ca. 3 l
Switchable – water tank/ fi xed water connection

•

•

•

•

•

Automatic water shortage shut-off

•

•

•

•

•

•

•

•

•

•

Boiler
brass
stainless steel
stainless steel
copper
stainless steel
copper
stainless steel
stainless steel
stainless steel
stainless steel
stainless steel
Boiler volume
ca. 0.4 l
ca. 0.75 l
ca. 0.75 l
ca. 2.1 l
ca. 2.2 l 
ca. 2.1 l 
ca. 2.1 l
ca. 2.1 l
ca. 2.1 l
*ca. 0.75 l **ca. 2 
*ca. 0.75 l **ca. 2 l
Boiler insulation

•

•

•

•

•

•

•

•

•

•

•

Boiler pressure gauge

•

•

•

•

•

•

•

•

Pump pressure gauge

•

•

•

•

•

•

•

•

•

•

•

Manually adjustable brewing pressure

•

•

•

•

•

•

•

•

•

•

ECM portafi lters

•

•

•

•

•

•

•

•

•

•

No. of portafi lters
1
1
1
2
2
2
2
2
2
2
2
| | |
| --- | --- |
| | Dual boiler |
| Model | |
| Espresso machines | Synchronika |
| ECM patented brew group | • |
| Vibration pump | |
| Rotary pump | • |
| Fresh water tank | ca. 2.8 l |
| Switchable – water tank/ fi xed water connection | • |
| Automatic water shortage shut-off | • |
| Boiler | stainless steel |
| Boiler volume | *ca. 0.75 l **ca. 2  |
| Boiler insulation | • |
| Boiler pressure gauge | • |
| Pump pressure gauge | • |
| Manually adjustable brewing pressure | • |
| ECM portafi lters | • |
| No. of portafi lters | 2 |
| | |
| --- | --- |
| | Dual boiler |
| Model | |
| Espresso machines | Controvento |
| ECM patented brew group | • |
| Vibration pump | |
| Rotary pump | • |
| Fresh water tank | ca. 3 l |
| Switchable – water tank/ fi xed water connection | • |
| Automatic water shortage shut-off | • |
| Boiler | stainless steel |
| Boiler volume | *ca. 0.75 l **ca. 2 l |
| Boiler insulation | • |
| Boiler pressure gauge | • |
| Pump pressure gauge | • |
| Manually adjustable brewing pressure | • |
| ECM portafi lters | • |
| No. of portafi lters | 2 |
| | |
| --- | --- |
| | Single boiler |
| Model | |
| Espresso machines | Casa V |
| ECM patented brew group | |
| Vibration pump | • |
| Rotary pump | |
| Fresh water tank | ca. 2.8 l |
| Switchable – water tank/ fi xed water connection | |
| Automatic water shortage shut-off | |
| Boiler | brass |
| Boiler volume | ca. 0.4 l |
| Boiler insulation | • |
| Boiler pressure gauge | |
| Pump pressure gauge | • |
| Manually adjustable brewing pressure | • |
| ECM portafi lters | • |
| No. of portafi lters | 1 |
| | |
| --- | --- |
| | Single boiler |
| Model | |
| Espresso machines | Classika II |
| ECM patented brew group | • |
| Vibration pump | • |
| Rotary pump | |
| Fresh water tank | ca. 2.8 l |
| Switchable – water tank/ fi xed water connection | |
| Automatic water shortage shut-off | • |
| Boiler | stainless steel |
| Boiler volume | ca. 0.75 l |
| Boiler insulation | • |
| Boiler pressure gauge | |
| Pump pressure gauge | • |
| Manually adjustable brewing pressure | • |
| ECM portafi lters | • |
| No. of portafi lters | 1 |
| | |
| --- | --- |
| | Single boiler |
| Model | |
| Espresso machines | Classika PID |
| ECM patented brew group | • |
| Vibration pump | • |
| Rotary pump | |
| Fresh water tank | ca. 2.8 l |
| Switchable – water tank/ fi xed water connection | |
| Automatic water shortage shut-off | • |
| Boiler | stainless steel |
| Boiler volume | ca. 0.75 l |
| Boiler insulation | • |
| Boiler pressure gauge | |
| Pump pressure gauge | • |
| Manually adjustable brewing pressure | • |
| ECM portafi lters | • |
| No. of portafi lters | 1 |
| | |
| --- | --- |
| | Heat exchanger |
| Model | |
| Espresso machines | Barista |
| ECM patented brew group | |
| Vibration pump | • |
| Rotary pump | |
| Fresh water tank | ca. 3 l |
| Switchable – water tank/ fi xed water connection | |
| Automatic water shortage shut-off | • |
| Boiler | copper |
| Boiler volume | ca. 2.1 l |
| Boiler insulation | • |
| Boiler pressure gauge | • |
| Pump pressure gauge | • |
| Manually adjustable brewing pressure | |
| ECM portafi lters | |
| No. of portafi lters | 2 |
| | |
| --- | --- |
| | Heat exchanger |
| Model | |
| Espresso machines | Mechanika V Slim |
| ECM patented brew group | • |
| Vibration pump | • |
| Rotary pump | |
| Fresh water tank | ca. 2.8 |
| Switchable – water tank/ fi xed water connection | |
| Automatic water shortage shut-off | • |
| Boiler | stainless steel |
| Boiler volume | ca. 2.2 l  |
| Boiler insulation | • |
| Boiler pressure gauge | • |
| Pump pressure gauge | • |
| Manually adjustable brewing pressure | • |
| ECM portafi lters | • |
| No. of portafi lters | 2 |
| | |
| --- | --- |
| | Heat exchanger |
| Model | |
| Espresso machines | Technika IV |
| ECM patented brew group | • |
| Vibration pump | • |
| Rotary pump | |
| Fresh water tank | ca. 3 l |
| Switchable – water tank/ fi xed water connection | |
| Automatic water shortage shut-off | • |
| Boiler | copper |
| Boiler volume | ca. 2.1 l  |
| Boiler insulation | • |
| Boiler pressure gauge | • |
| Pump pressure gauge | • |
| Manually adjustable brewing pressure | • |
| ECM portafi lters | • |
| No. of portafi lters | 2 |
| | |
| --- | --- |
| | Heat exchanger |
| Model | |
| Espresso machines | Mechanika IV Profi |
| ECM patented brew group | • |
| Vibration pump | |
| Rotary pump | • |
| Fresh water tank | ca. 3 l |
| Switchable – water tank/ fi xed water connection | • |
| Automatic water shortage shut-off | • |
| Boiler | stainless steel |
| Boiler volume | ca. 2.1 l |
| Boiler insulation | • |
| Boiler pressure gauge | • |
| Pump pressure gauge | • |
| Manually adjustable brewing pressure | • |
| ECM portafi lters | • |
| No. of portafi lters | 2 |
| | |
| --- | --- |
| | Heat exchanger |
| Model | |
| Espresso machines | Technika IV Profi |
| ECM patented brew group | • |
| Vibration pump | |
| Rotary pump | • |
| Fresh water tank | ca. 3 l |
| Switchable – water tank/ fi xed water connection | • |
| Automatic water shortage shut-off | • |
| Boiler | stainless steel |
| Boiler volume | ca. 2.1 l |
| Boiler insulation | • |
| Boiler pressure gauge | • |
| Pump pressure gauge | • |
| Manually adjustable brewing pressure | • |
| ECM portafi lters | • |
| No. of portafi lters | 2 |
| | |
| --- | --- |
| | Heat exchanger |
| Model | |
| Espresso machines | Elektronika II Profi |
| ECM patented brew group | • |
| Vibration pump | |
| Rotary pump | • |
| Fresh water tank | ca. 3 l |
| Switchable – water tank/ fi xed water connection | • |
| Automatic water shortage shut-off | • |
| Boiler | stainless steel |
| Boiler volume | ca. 2.1 l |
| Boiler insulation | • |
| Boiler pressure gauge | • |
| Pump pressure gauge | • |
| Manually adjustable brewing pressure | • |
| ECM portafi lters | • |
| No. of portafi lters | 2 |