The ECM Mechanika V Slim is a heat exchanger espresso machine with a new stainless steel boiler has a slightly increased capacity of 2.2L and features thermal insulation for greater energy efficiency, an E61 group head, a quiet vibratory pump, and an internal water reservoir, that evoke feelings of traditional Italian espresso machines and their hand-built quality.
This machine is a great option for the prosumer's home or office kitchen, If you're looking for an ergonomic portafilter design and dual pressure gauges, this one may be for you.
Heat Exchanger
The Mechanika V Slim is equipped with a 1400 W stainless steel boiler with a capacity of 2.2 L. As a heat exchanger machine, you can expect to brew and steam without waiting, or even at the same time.
E61 Brew Group
The E61 grouphead is constantly heated with water from the thermosyphon system for temperature stability. It also features a pre-infusion cylinder to aid in the extraction process.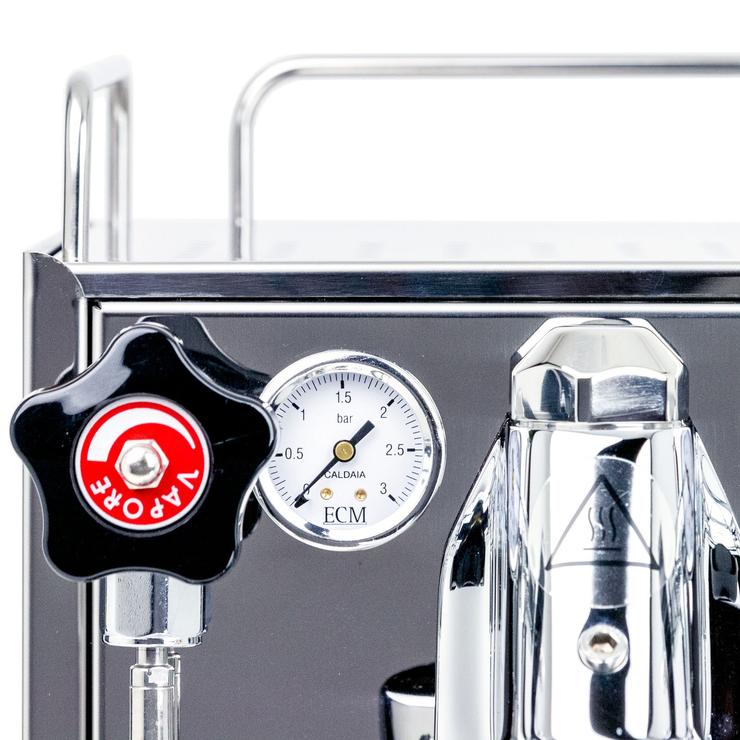 Low Water Sensor
It will alert you to a low water level with a flashing light on the front of the machines.As a precaution, the machines will also cut the power in the event that the water level gets too low.
No Burn Steam And Hot Water Wand
The steam wand on ECM come with a full range of rotation, which means that you can better angle your pitcher to aerate the milk and promote even heat distribution.
Cleaning the steam wand will also be easier since milk residues won't stick to them as quickly
Compact Design
The Mechanika V Slim, at 25 cm wide and 39.5 cm tall, doesn't ask for much space at all, fitting comfortably beneath standard kitchen cabinetry and leaving plenty of room on the counter.
Handmade & High-End Construction
The machine is housed in mirror-finished, stainless steel panels. It rests on a one-piece internal steel frame, which protects it from bending or bowing during shipping or as the result of continuous use.