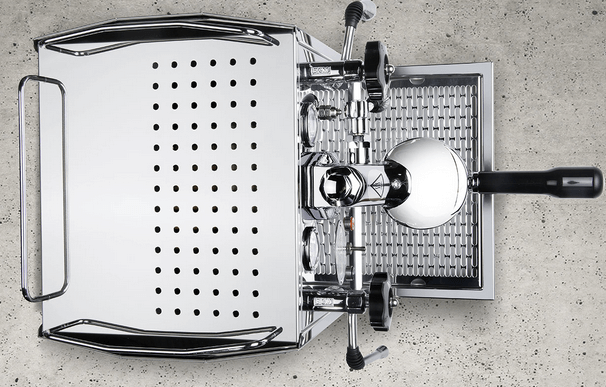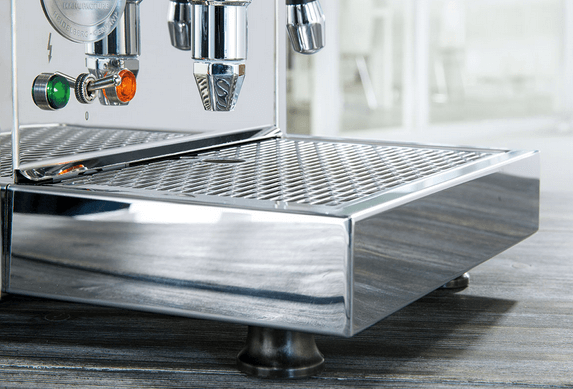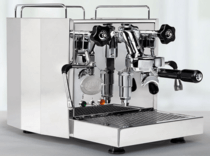 Featuring a copper boiler, a commercial grade rotary pump, large drip tray and a thermosyphon system, the Barista espresso machine is one of ECM's most popular models. This machine has bells & whistles not found on more expensive espresso machines on the market! A tremendously large drip tray, heat exchanger and a large boiler volume are just some of the features you'll love on this machine.
Heat Exchange Boiler - Heat exchanging allows the user to brew espresso shots and steam milk simultaneously. A time saving, convenient feature
Thermosyphon System - This system keeps hot water flowing from the boiler to the brew group. What this means for you is a consistently warm cup of coffee during every use.
E61 Commercial Group Head - Typically found on commercial machines, the E61 is the standard. The group head is a vital component when making espresso and the E61 is consistently regarded as the benchmark all machines are compared to.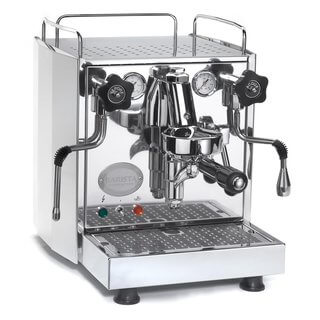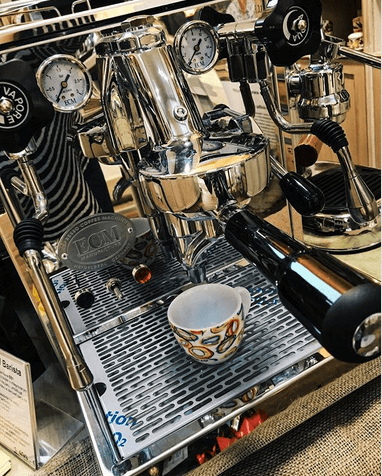 Low Water Indicator - The ECM Barista will alert you by blinking a light when the machine automatically detects a low water level. Triggered by a sensor in the water reservoir, it's of vital importance to use water that contains a low mineral count. Otherwise, the machine won't operate.
Large Cold Water Tank - Nice quality and very large cold water tank, accessed by removing the cup warmer tray. It holds just over 3 litres and simply slides in and out of the Barista for easy cleaning. Refilling can be done with the tank in or out of the machine. It has a wide mouth so it's easy to refill without spills.
Nice Cup Warming Tray - You can get plenty of cups on there, definitely no lack of space.
Vibratory Pump - Durable, consistent and economical, vibratory pumps are the most common pump found in home espresso machines. The only downside is the noise level. Vibe pumps are a tad noisier than their rotary pump brothers. The quality of espresso, however, is more than comparable on a vibratory pump espresso machine.
Stainless Steel Case - The stunning ECM Barista is sure to impress and dazzle in your kitchen. Polished from the finest AISI 304 stainless steel and handcrafted in Germany, the Barista embodies the ECM brand.
Durability - Constructed of the finest stainless steel, The ECM espresso machines are built to withstand and last. Whether you use it just once or leave it on all day, the ECM Barista will hold heat and produce consistent shots all day long.
Pressure - The steam pressure on the ECM Barista is quite impressive.
ECM Espresso Machine Comparison
Single boiler

Heat exchanger

Dual boiler

Model

Espresso machines
Casa V
Classika II
Classika PID
Barista
Mechanika V Slim
Technika IV
Mechanika IV Profi
Technika IV Profi
Elektronika II Profi
Synchronika
Controvento
ECM patented brew group

•

•

•

•

•

•

•

•

•

Vibration pump

•

•

•

•

•

•

Rotary pump

•

•

•

•

•

Fresh water tank
ca. 2.8 l
ca. 2.8 l
ca. 2.8 l
ca. 3 l
ca. 2.8
ca. 3 l
ca. 3 l
ca. 3 l
ca. 3 l
ca. 2.8 l
ca. 3 l
Switchable – water tank/ fi xed water connection

•

•

•

•

•

Automatic water shortage shut-off

•

•

•

•

•

•

•

•

•

•

Boiler
brass
stainless steel
stainless steel
copper
stainless steel
copper
stainless steel
stainless steel
stainless steel
stainless steel
stainless steel
Boiler volume
ca. 0.4 l
ca. 0.75 l
ca. 0.75 l
ca. 2.1 l
ca. 2.2 l 
ca. 2.1 l 
ca. 2.1 l
ca. 2.1 l
ca. 2.1 l
*ca. 0.75 l **ca. 2 
*ca. 0.75 l **ca. 2 l
Boiler insulation

•

•

•

•

•

•

•

•

•

•

•

Boiler pressure gauge

•

•

•

•

•

•

•

•

Pump pressure gauge

•

•

•

•

•

•

•

•

•

•

•

Manually adjustable brewing pressure

•

•

•

•

•

•

•

•

•

•

ECM portafi lters

•

•

•

•

•

•

•

•

•

•

No. of portafi lters
1
1
1
2
2
2
2
2
2
2
2
| | |
| --- | --- |
| | Heat exchanger |
| Model | |
| Espresso machines | Barista |
| ECM patented brew group | |
| Vibration pump | • |
| Rotary pump | |
| Fresh water tank | ca. 3 l |
| Switchable – water tank/ fi xed water connection | |
| Automatic water shortage shut-off | • |
| Boiler | copper |
| Boiler volume | ca. 2.1 l |
| Boiler insulation | • |
| Boiler pressure gauge | • |
| Pump pressure gauge | • |
| Manually adjustable brewing pressure | |
| ECM portafi lters | |
| No. of portafi lters | 2 |
| | |
| --- | --- |
| | Heat exchanger |
| Model | |
| Espresso machines | Mechanika V Slim |
| ECM patented brew group | • |
| Vibration pump | • |
| Rotary pump | |
| Fresh water tank | ca. 2.8 |
| Switchable – water tank/ fi xed water connection | |
| Automatic water shortage shut-off | • |
| Boiler | stainless steel |
| Boiler volume | ca. 2.2 l  |
| Boiler insulation | • |
| Boiler pressure gauge | • |
| Pump pressure gauge | • |
| Manually adjustable brewing pressure | • |
| ECM portafi lters | • |
| No. of portafi lters | 2 |
| | |
| --- | --- |
| | Heat exchanger |
| Model | |
| Espresso machines | Technika IV |
| ECM patented brew group | • |
| Vibration pump | • |
| Rotary pump | |
| Fresh water tank | ca. 3 l |
| Switchable – water tank/ fi xed water connection | |
| Automatic water shortage shut-off | • |
| Boiler | copper |
| Boiler volume | ca. 2.1 l  |
| Boiler insulation | • |
| Boiler pressure gauge | • |
| Pump pressure gauge | • |
| Manually adjustable brewing pressure | • |
| ECM portafi lters | • |
| No. of portafi lters | 2 |
| | |
| --- | --- |
| | Heat exchanger |
| Model | |
| Espresso machines | Mechanika IV Profi |
| ECM patented brew group | • |
| Vibration pump | |
| Rotary pump | • |
| Fresh water tank | ca. 3 l |
| Switchable – water tank/ fi xed water connection | • |
| Automatic water shortage shut-off | • |
| Boiler | stainless steel |
| Boiler volume | ca. 2.1 l |
| Boiler insulation | • |
| Boiler pressure gauge | • |
| Pump pressure gauge | • |
| Manually adjustable brewing pressure | • |
| ECM portafi lters | • |
| No. of portafi lters | 2 |
| | |
| --- | --- |
| | Heat exchanger |
| Model | |
| Espresso machines | Technika IV Profi |
| ECM patented brew group | • |
| Vibration pump | |
| Rotary pump | • |
| Fresh water tank | ca. 3 l |
| Switchable – water tank/ fi xed water connection | • |
| Automatic water shortage shut-off | • |
| Boiler | stainless steel |
| Boiler volume | ca. 2.1 l |
| Boiler insulation | • |
| Boiler pressure gauge | • |
| Pump pressure gauge | • |
| Manually adjustable brewing pressure | • |
| ECM portafi lters | • |
| No. of portafi lters | 2 |
| | |
| --- | --- |
| | Heat exchanger |
| Model | |
| Espresso machines | Elektronika II Profi |
| ECM patented brew group | • |
| Vibration pump | |
| Rotary pump | • |
| Fresh water tank | ca. 3 l |
| Switchable – water tank/ fi xed water connection | • |
| Automatic water shortage shut-off | • |
| Boiler | stainless steel |
| Boiler volume | ca. 2.1 l |
| Boiler insulation | • |
| Boiler pressure gauge | • |
| Pump pressure gauge | • |
| Manually adjustable brewing pressure | • |
| ECM portafi lters | • |
| No. of portafi lters | 2 |
| | |
| --- | --- |
| | Single boiler |
| Model | |
| Espresso machines | Casa V |
| ECM patented brew group | |
| Vibration pump | • |
| Rotary pump | |
| Fresh water tank | ca. 2.8 l |
| Switchable – water tank/ fi xed water connection | |
| Automatic water shortage shut-off | |
| Boiler | brass |
| Boiler volume | ca. 0.4 l |
| Boiler insulation | • |
| Boiler pressure gauge | |
| Pump pressure gauge | • |
| Manually adjustable brewing pressure | • |
| ECM portafi lters | • |
| No. of portafi lters | 1 |
| | |
| --- | --- |
| | Single boiler |
| Model | |
| Espresso machines | Classika II |
| ECM patented brew group | • |
| Vibration pump | • |
| Rotary pump | |
| Fresh water tank | ca. 2.8 l |
| Switchable – water tank/ fi xed water connection | |
| Automatic water shortage shut-off | • |
| Boiler | stainless steel |
| Boiler volume | ca. 0.75 l |
| Boiler insulation | • |
| Boiler pressure gauge | |
| Pump pressure gauge | • |
| Manually adjustable brewing pressure | • |
| ECM portafi lters | • |
| No. of portafi lters | 1 |
| | |
| --- | --- |
| | Single boiler |
| Model | |
| Espresso machines | Classika PID |
| ECM patented brew group | • |
| Vibration pump | • |
| Rotary pump | |
| Fresh water tank | ca. 2.8 l |
| Switchable – water tank/ fi xed water connection | |
| Automatic water shortage shut-off | • |
| Boiler | stainless steel |
| Boiler volume | ca. 0.75 l |
| Boiler insulation | • |
| Boiler pressure gauge | |
| Pump pressure gauge | • |
| Manually adjustable brewing pressure | • |
| ECM portafi lters | • |
| No. of portafi lters | 1 |
| | |
| --- | --- |
| | Dual boiler |
| Model | |
| Espresso machines | Synchronika |
| ECM patented brew group | • |
| Vibration pump | |
| Rotary pump | • |
| Fresh water tank | ca. 2.8 l |
| Switchable – water tank/ fi xed water connection | • |
| Automatic water shortage shut-off | • |
| Boiler | stainless steel |
| Boiler volume | *ca. 0.75 l **ca. 2  |
| Boiler insulation | • |
| Boiler pressure gauge | • |
| Pump pressure gauge | • |
| Manually adjustable brewing pressure | • |
| ECM portafi lters | • |
| No. of portafi lters | 2 |
| | |
| --- | --- |
| | Dual boiler |
| Model | |
| Espresso machines | Controvento |
| ECM patented brew group | • |
| Vibration pump | |
| Rotary pump | • |
| Fresh water tank | ca. 3 l |
| Switchable – water tank/ fi xed water connection | • |
| Automatic water shortage shut-off | • |
| Boiler | stainless steel |
| Boiler volume | *ca. 0.75 l **ca. 2 l |
| Boiler insulation | • |
| Boiler pressure gauge | • |
| Pump pressure gauge | • |
| Manually adjustable brewing pressure | • |
| ECM portafi lters | • |
| No. of portafi lters | 2 |