Rocket Espresso Appartamento - White
The compact size, optimized chassis, outstanding features and quality, and large boiler make the Rocket Appartamento a great fit for people looking for the best espresso at home in a small package. The steaming performance and the legendary E61 Group ensure the espresso is as good as it gets.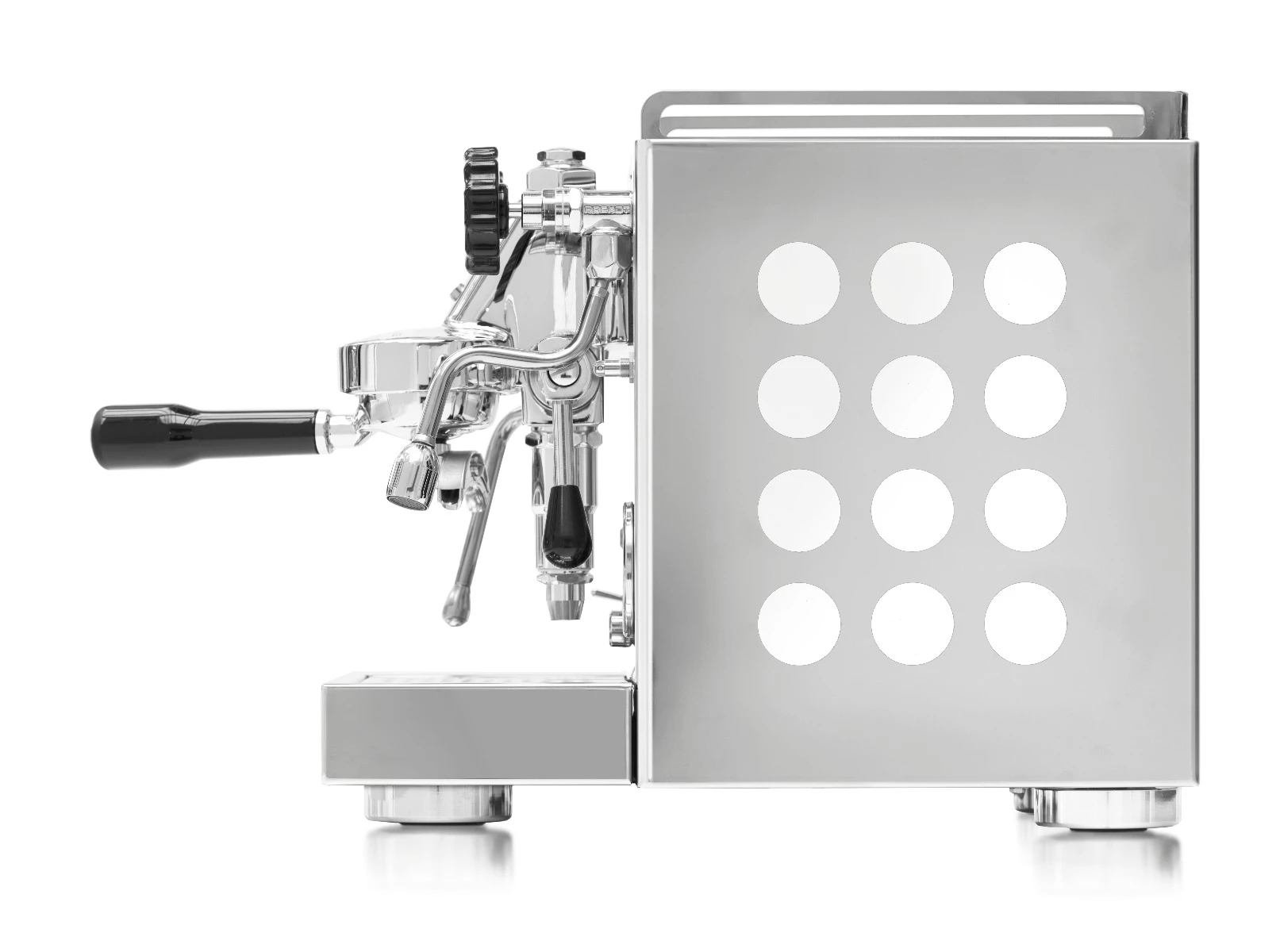 Heat Exchanger Boiler Design: The Rocket Appartamento contains heat exchanging capabilities. This allows the user to steam espresso shots and milk at the same time. A wonderful time-saving feature not found on most single boiler espresso machines. Built for consistency, HX espresso machines have become the standard for espresso at home as they yield consistent espresso shots all day long.
1.8 Liter Heat Exchanging Copper Boiler: Heat exchanging (HX) is pretty standard for Rocket Espresso Machines. An HX machine will allow you to steam milk and brew espresso shots simultaneously. Designed for consistency, a heat exchanging espresso machine will deliver consistent espresso shots all day long.
Vibratory Pump: Durable, consistent and economical, vibratory pumps are the most common pump found in home espresso machines. The only downside is the noise level. Vibe pumps are a tad noisier than their rotary pump brothers. The quality of espresso, however, is more than comparable on a vibratory pump espresso machine.
2.5 Liter Removable Water Tank: The Rocket Espresso Appartamento is not plumbable. It does, however, come with a large 2.5 liter removable water tank.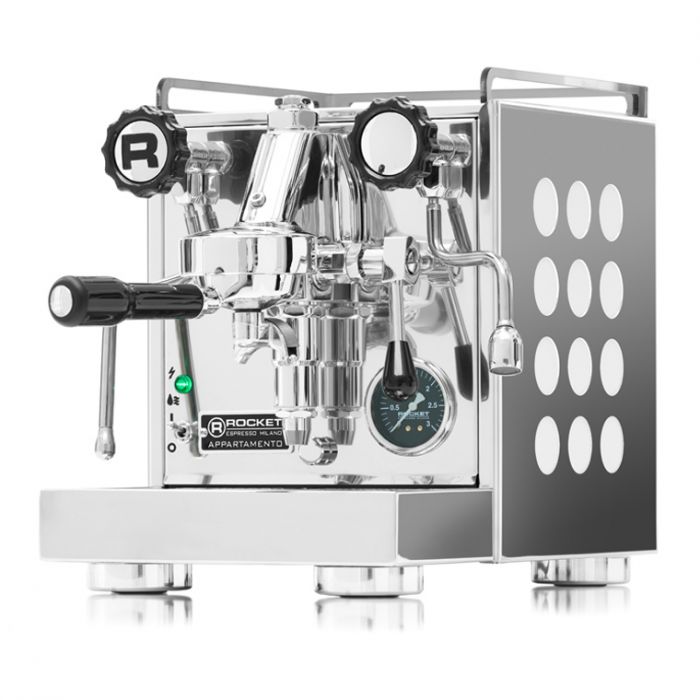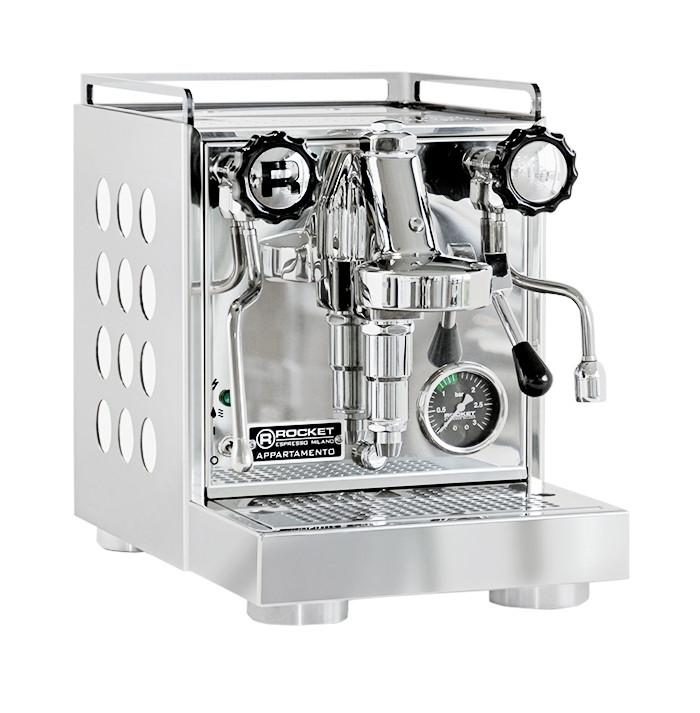 Compact Design: Rocket Espresso had one thing in mind when designing the Appartamento - reduced size without sacrificing quality. Compared to other Rocket models, the Appartamento is more compact.
Dimensions: 10.5" wide x 17" deep x 14.25" high including cup frame surround. Ideal for anyone working with low-hanging cabinets or limited counter space. The Rocket Appartamento White will look stunning in your kitchen but won't take up an unnecessary amount of counter space.
E-61 Heated Group Head: Commercial-grade group head. Made for consistent shots. If it doesn't contain an E61, look elsewhere. The Rocket Appartamento White, like all Rocket Espresso Machines, is constructed from the finest, most durable materials. The E61 group head is no exception.
Anti-Burn Steam Wand: 2 Hole Steam Tip: Beware! Don't let the name fool you. You still won't want to touch this thing after use. It's still relatively hot. The Appartamento steam wand has an attached grip to make sure you aren't touching it directly after use.
Boiler Pressure Gauge: Conveniently located on the front of the machine, you can track your boilers pressure during use. The Appartamento does not contain a steam pressure gauge.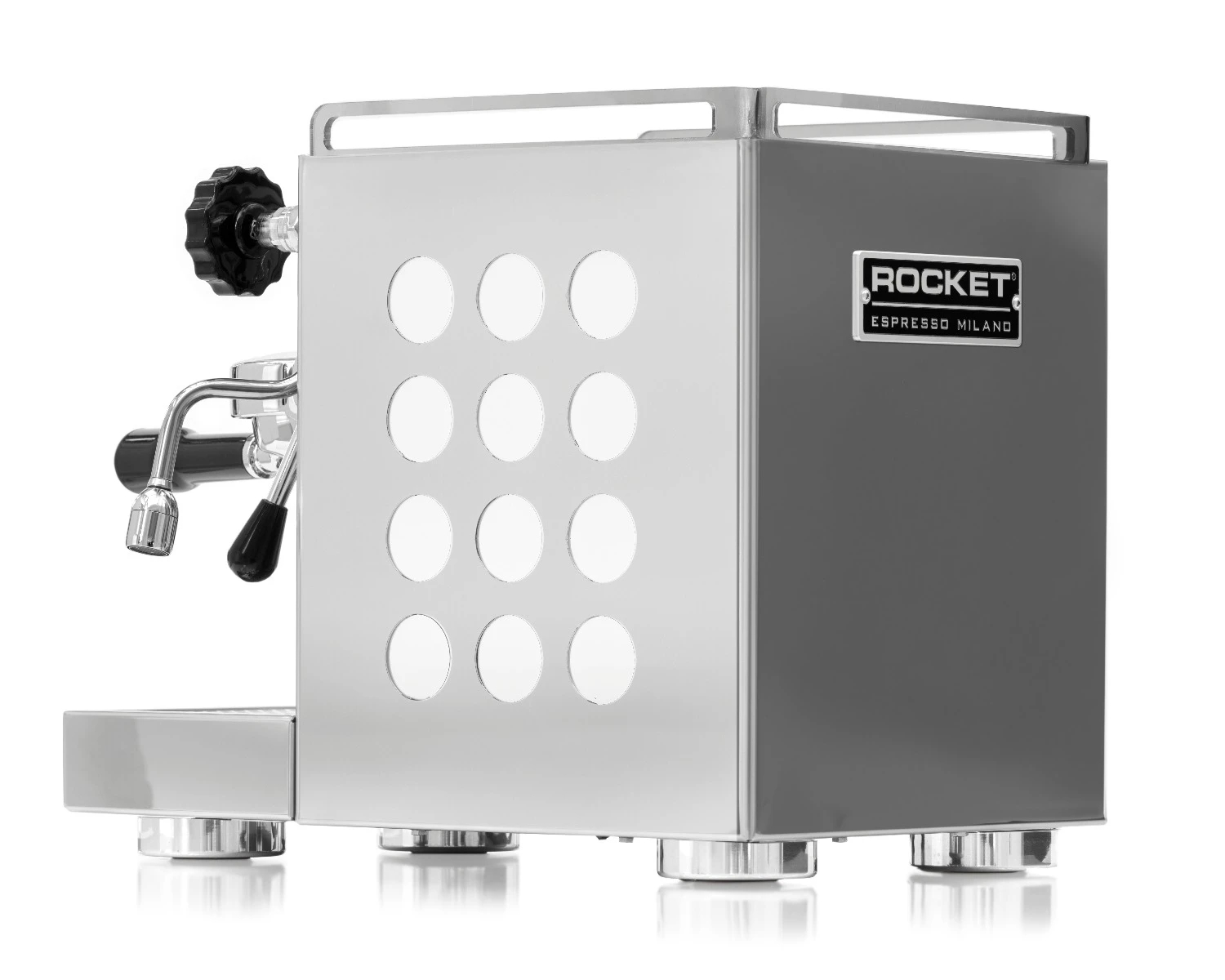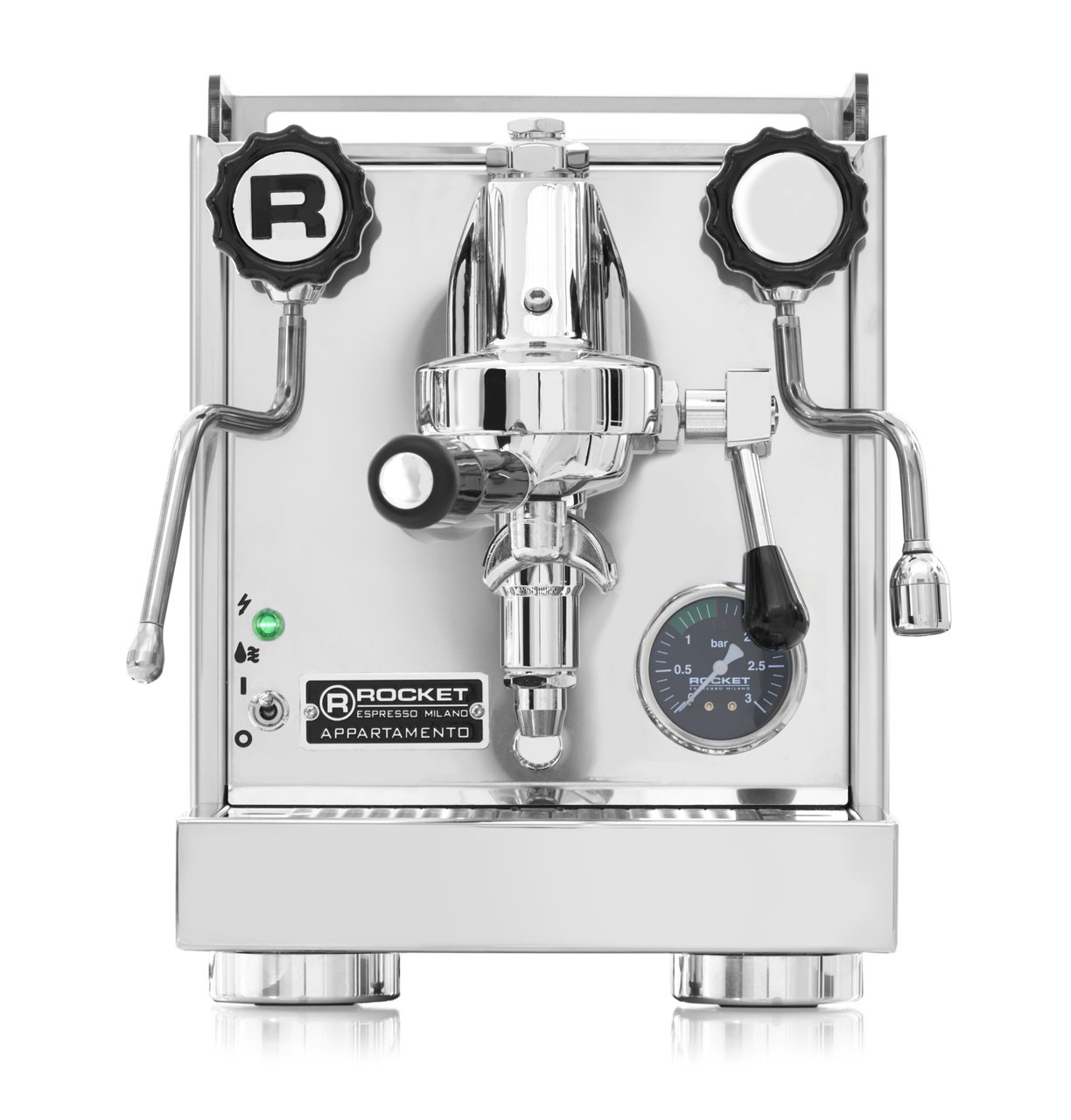 Style: The Appartamento is one instagramable espresso machine. Featuring an all stainless steel body and either copper or white side paneling, the Rocket Appartamento is a stud. Place it in your kitchen and watch the compliments pour over.
Shot Quality: Shot quality on the Appartamento is impressive. Brewing shots with this lever machine is also incredibly easy. The Appartamento, unlike other Rockets, only contains one gauge - a boiler pressure gauge. For brewing, this is great but when it comes time to steam, it's a little inconvenient not to have that gauge up there however this will only really impact you if you're someone who's going to be brewing and steaming multiple drinks in a row (being able to see your steam pressure and how quickly it recoups is nice - can't do that on the Appartamento).
A True Beauty: Available in copper (well, they really look bronze in person) or white, the Rocket Appartamento will instantly become the centerpiece of your kitchen that'll yield endless compliments and questions of where you got it.
Metal Tamper Included: Most brands only give you poor quality, plastic tampers. Not Rocket. They've gone all out and include a Rocket Espresso metal tamper. Great, great quality.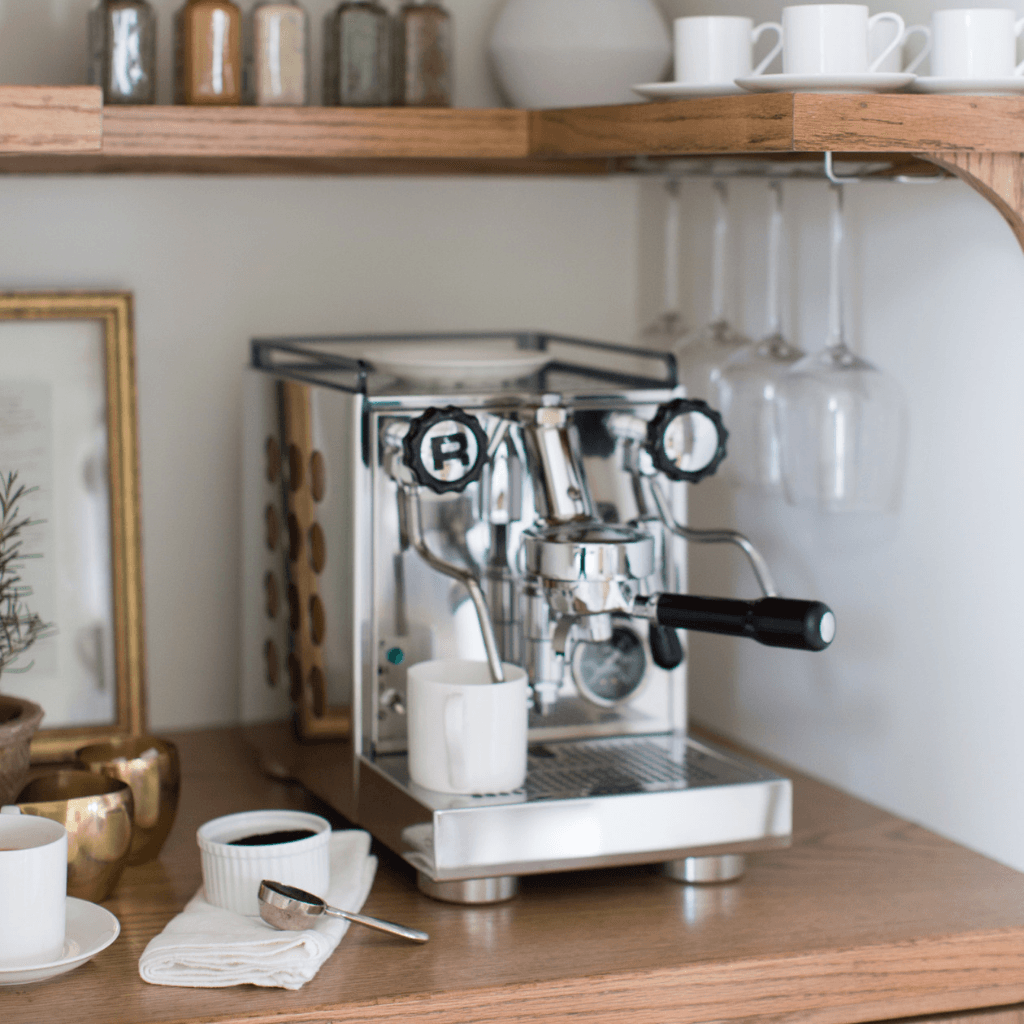 Eureka Mignon Silenzio - Black
Eureka Mignon Silenzio Espresso Grinder
The Silenzio comes with a new motor, anti-clumping system and a custom-designed sound insulated case. Rubber damping at motor mounts and around exit points like the throat and grind adjust knob reduce resonance for quieter grinding. The Silenzio may be quiet, but it packs in a host of Eureka's famous features like stepless grind adjustment, easy-access burrs, and a bottom burr adjust that preserves your grind setting during disassembly.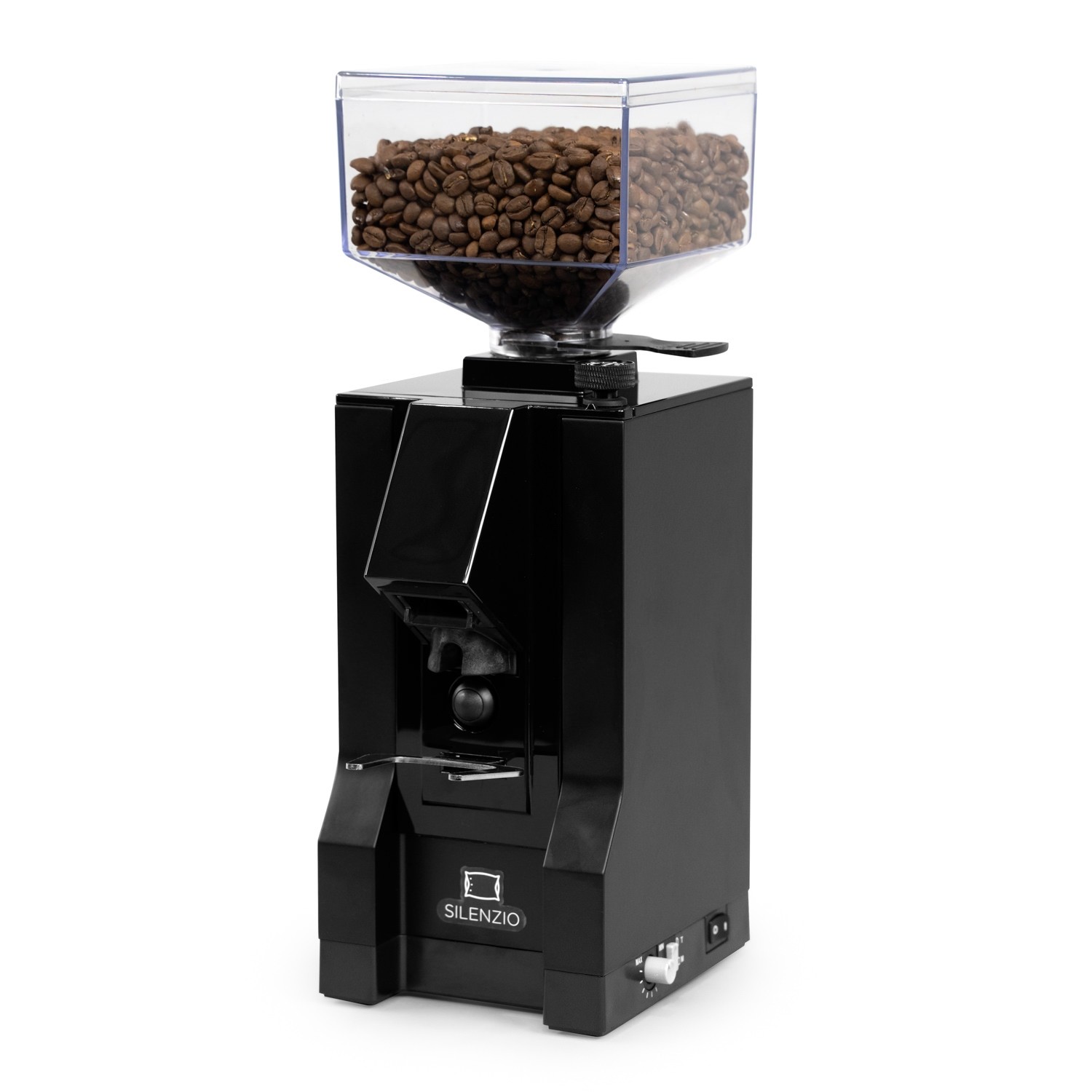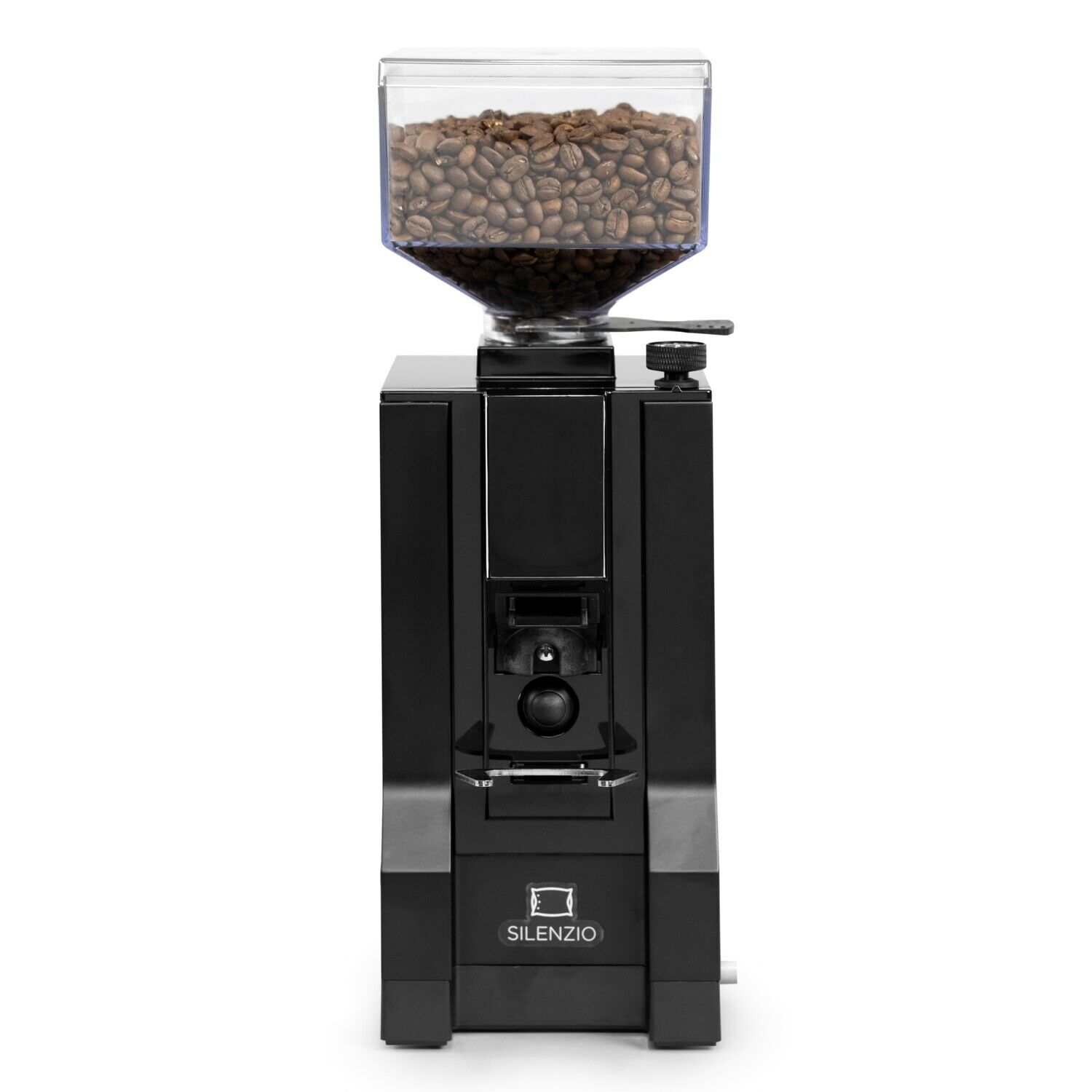 Sound-insulated Case - A thick metal case filled with rubber mounts, gaskets, and covers make for muted sound and low resonance.
Stepless 50mm Burrs - Sized for the home, the Silenzio's 50mm burrs are built from resilient, hardened steel.
Anti clump system - The redesigned grind path and clump crusher make for clean, smooth grinds.
Timed Dosing - Adjust the timer on the side of the case to grind your ideal dose.
Bottom-Burr Adjust - By adjusting below the motor mount, you can remove the top burr for cleaning without losing your grind setting.
Redesigned Chute - A brand new assembly from the original Mignon, the Silenzio's chute is wider, sound insulated and features anti-clumping technology.
Instead of a touchscreen display, it has a simple timed dosing dial and manual grinding toggle on the lower right-hand side. The large switch turns the grinder on. The button on the lower right switches the grinder from semi-automatic (pushed out) to the timer (pushed in) mode. Nothing distracts from its sleek Italian design. For those that want to minimize the number of screens and LEDs in their kitchen coffee corner.