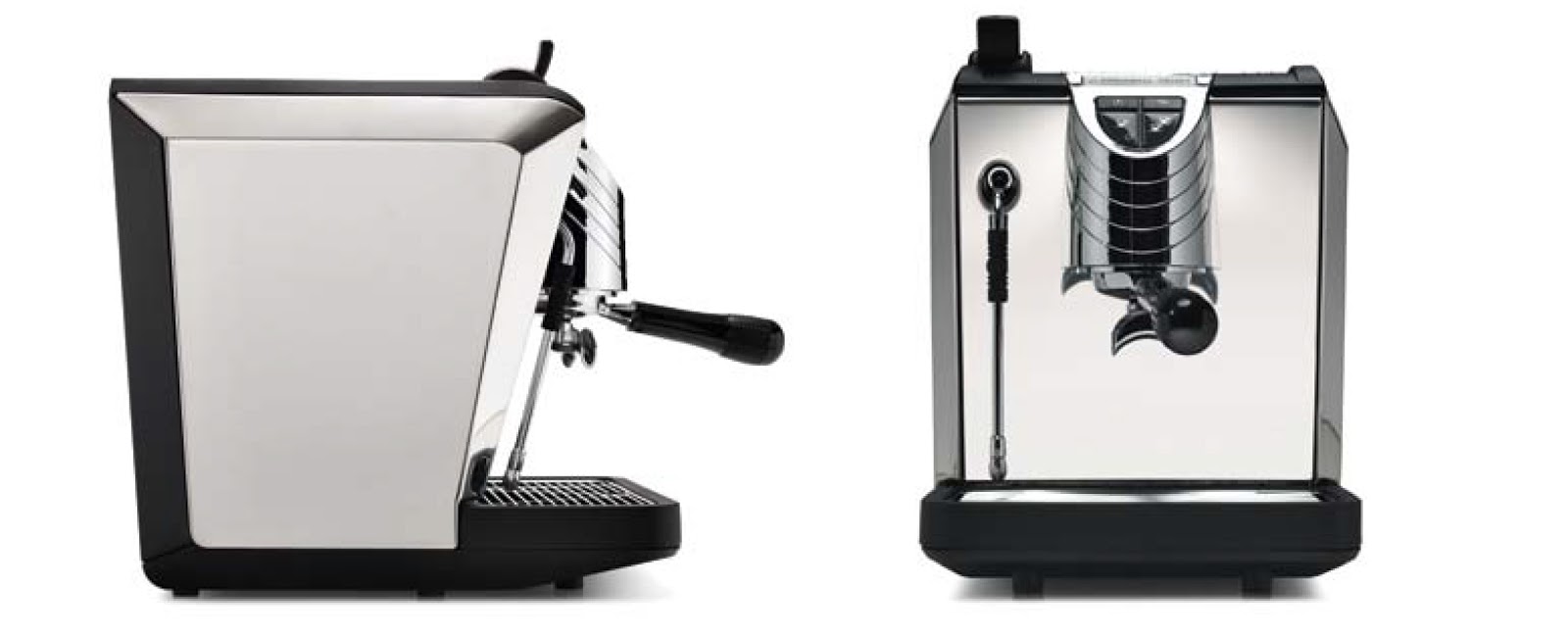 This Nuova Simonelli Oscar II offers extreme efficiency, versatility and simplicity. The minimalist design inspired by formal thought with the elegance of steel is very appealing. A reliable combination of mechanical and computerized system ensures superior quality at all times.
The Oscar II has capacities and features for creating a cup of coffee personalized to his/her preferences. It has included as well the Steam Wand and other features that provide each Home Barista with ease in creating that perfect milk foam for a cup of cappuccino or latte.
Perfect for homes, cafes, kiosks, and offices, this machine uses up to 3 liter of water at a time, which translates into roughly (32) 118ml  shots for you and your guests to enjoy.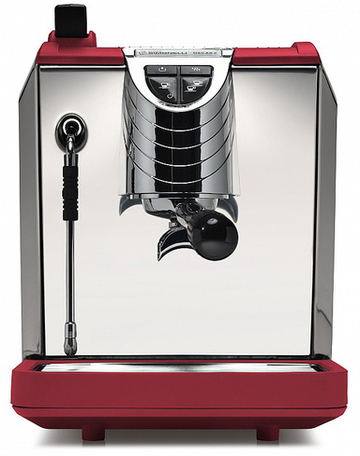 Heat Exchange Boiler - The Oscar II's copper steam boiler offers efficient on-demand heat and an impressive milk steaming/frothing profile.
Water Reservoir Sensor - An internal reservoir float will alert you when running low on water. By blinking it's only light, this means the machine's micro sensor has detected a low water level in it's reservoir and needs filling.
Timed Dosing - The programmable Timed Dosing feature allows you to program single & double shot buttons to dispense your desired amount of espresso. Simply program your desired quantities, push a button and go.
4-Hole Tip Steam Wand - The swiveling 4-hole tip stainless steel steam wand is of commercial quality and guarantees improved steaming.
Professional Portafilter - Just like the original, the Oscar II features a commercial heavy-duty size 58mm portafilter. Complete with both single and double baskets, the portafilter is essential to making quality espresso.
Cup Warmer - A top-mounted cup warmer helps to prep your mugs to an ideal heat for preserving the flavor of espresso shots.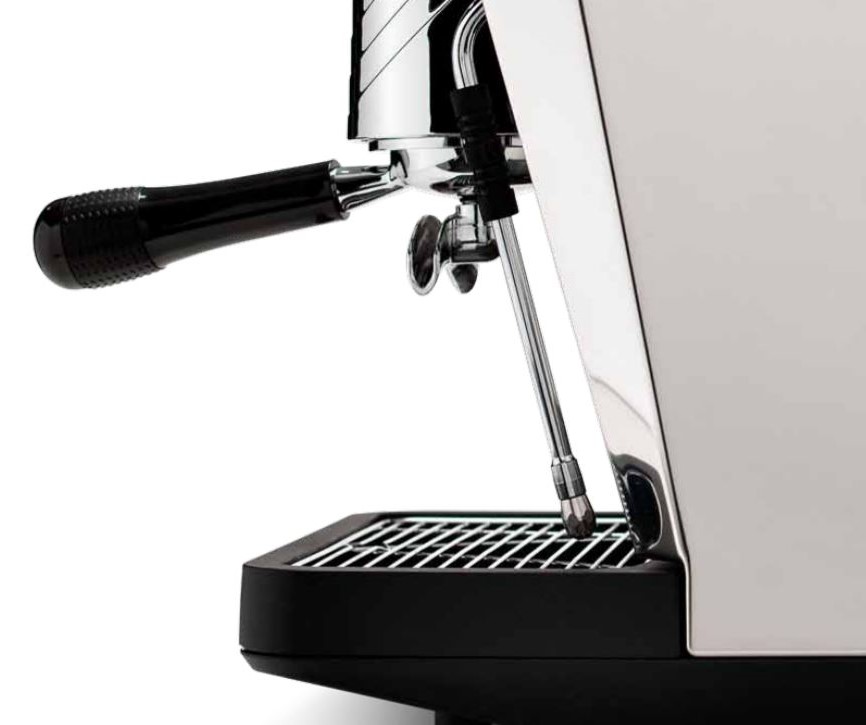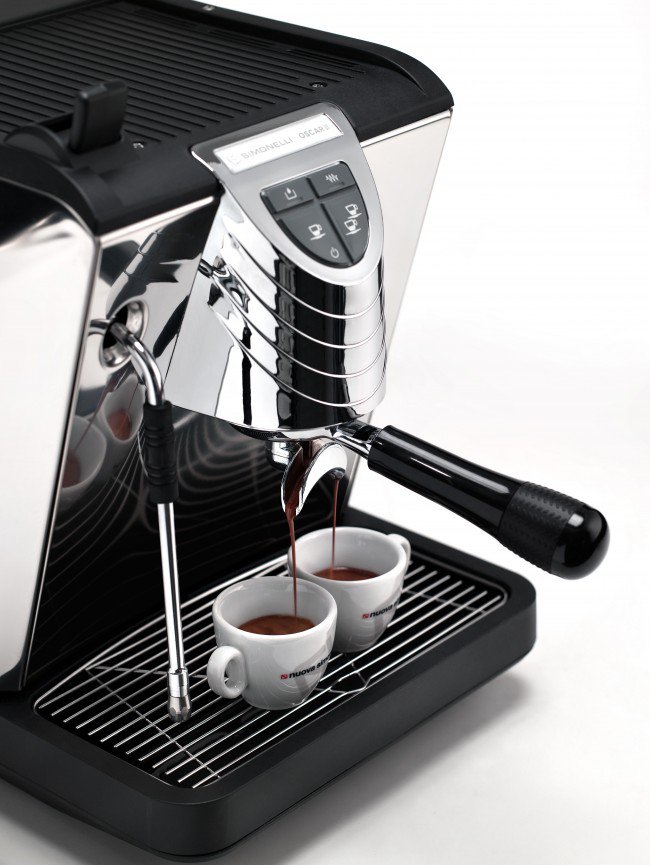 Compact Design - Although full of commercial parts, the Oscar II is compact. Fitting seamlessly on any kitchen countertop, this beauty is sure to impress.
Durability - Constructed in Italy out of the finest stainless steel (heavy-duty polished 304), Nuova Simonelli espresso machines are built to last and withstand.
Excellent Ergonomics - Ergonomics of the new Oscar II are outstanding. The portafilter handle is canted so that your brew basket sits level on countertops for tamping, the steam switch is prominent and easy to find by touch, the frothing wand is extra long and mounted on a 360° ball joint, even the drip tray grill is curved for easy replacement after cleaning.
Baratza Encore Conical Burr Coffee Grinder
40mm Conical Burrs - The Encore is an ideal entry-level grinder for many different forms of brewing. Conical burrs are designed for maximum efficiency and consistency grinding anything from very coarse to very fine.
40 Grind Settings - The Encore is full of settings. Easily adjust the coarseness of your grind with the simple turn of a dial. The Encore can help you grind for any type of coffee on a consistent basis. Most popular brew methods for the Encore include Chemex, Aeropress and Siphon.
Attached Grounds Container - The Encore comes complete with an attached grounds container to help create a mess-free grinding experience. Simply set the timer and let the Encore do all the work for you.
Large Bean Hopper - For a grinder in this price point, the bean hopper on the Encore is fairly large. With a 0.5lb capacity, you'll rarely find yourself replacing and re-filling the hopper.
Quiet Gearbox - The Encore features Gearbox 2.0 from Baratza. Designed for optimal performance and a quiet operation, this gearbox is not only quiet but more shock resistant than previous models. Older boxes contained metal. Baratza changed the gearbox to contain thermal plastic, which drastically reduces the noise level of the encore.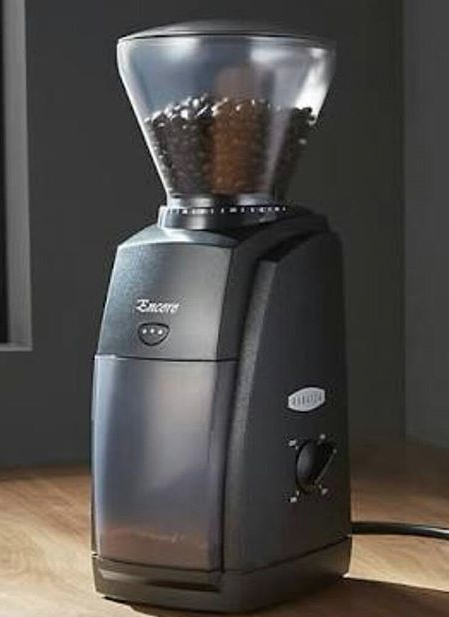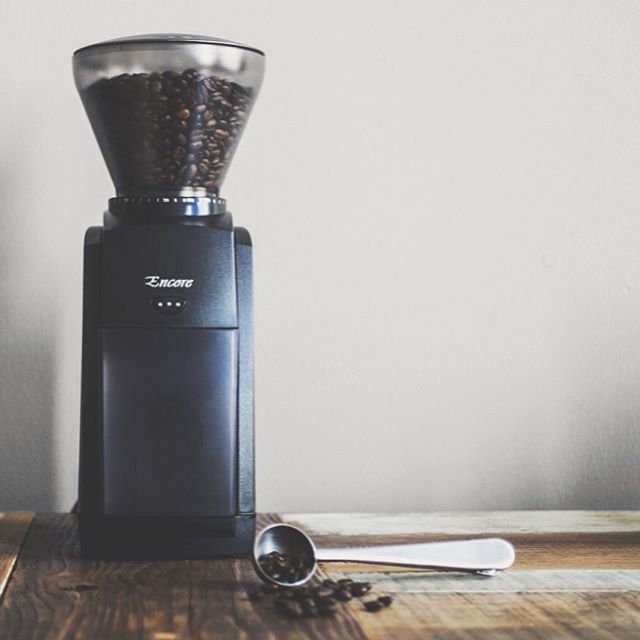 Powerful Motor, Quiet Operation - Powered by a high torque DC motor, the Encore will grind your beans with minimal heat transfer. The more heat transferred from your burrs to the beans results in lost flavors resulting in a weaker, duller cup of coffee.
Easy To Operate - The Encore is as simple as can be. Fully equipped with a timer, you can simply set it and let the grinder do all the work.
Compact - Like most Baratza grinders, the Encore's size is perfect for any kitchen or coffee bar. It's small enough to leave on your counters without taking up too much space or store in any cabinet.
Minimal Cleanup - The burrs on the Encore are easily removed and cleaned.
| | | | | | | |
| --- | --- | --- | --- | --- | --- | --- |
| | Encore | Virtuoso | Sette 30 | Sette 270/270Wi | Forte/Vario Ceramic | Forte/Vario Steel |
| Espresso | 8 | 8 | 9 | 9E | 2Q | N/A |
| AeroPress | 12 | 12 | 13 | 13E | 4M | 2M |
| Hario V60 | 15 | 15 | 16 | 16E | 5M | 4M |
| Automatic Brewer | 18 | 18 | 25 | 25E | 7M | 6M |
| Chemex | 20 | 20 | 26 | 26E | 9M | 7M |
| French Press | 28 | 28 | N/A | N/A | 10M | 9M |
| | | | |
| --- | --- | --- | --- |
| | Encore | Virtuoso | Sette 30 |
| Espresso | 8 | 8 | 9 |
| AeroPress | 12 | 12 | 13 |
| Hario V60 | 15 | 15 | 16 |
| Automatic Brewer | 18 | 18 | 25 |
| Chemex | 20 | 20 | 26 |
| French Press | 28 | 28 | N/A |
| | | | |
| --- | --- | --- | --- |
| | Sette 270/270Wi | Forte /Vario Ceramic | Forte /Vario Steel |
| Espresso | 9E | 2Q | N/A |
| AeroPress | 13E | 4M | 2M |
| Hario V60 | 16E | 5M | 4M |
| Automatic Brewer | 25E | 7M | 6M |
| Chemex | 26E | 9M | 7M |
| French Press | N/A | 10M | 9M |