Rocket Espresso R Cinquantotto Coffee Machine - The New R58
Cinquantotto means 58, the new R 58 from Rocket Espresso. The Rocket R Cinquantotto Dual Boiler Espresso Machine built with commercial-grade components, and constructed by hand. It offers you double boiler functionality and dual PID temperature control for optimum extraction. Its innovative chrome and classically Italian-styled stainless steel design chassis will make your coffee corner look fresh and modern. You never have to worry about filling up the reservoir again because the R Cinquantotto  features a  rotary pump, which, on top of being incredibly quiet, offers the option to plumb the machine directly into a water line.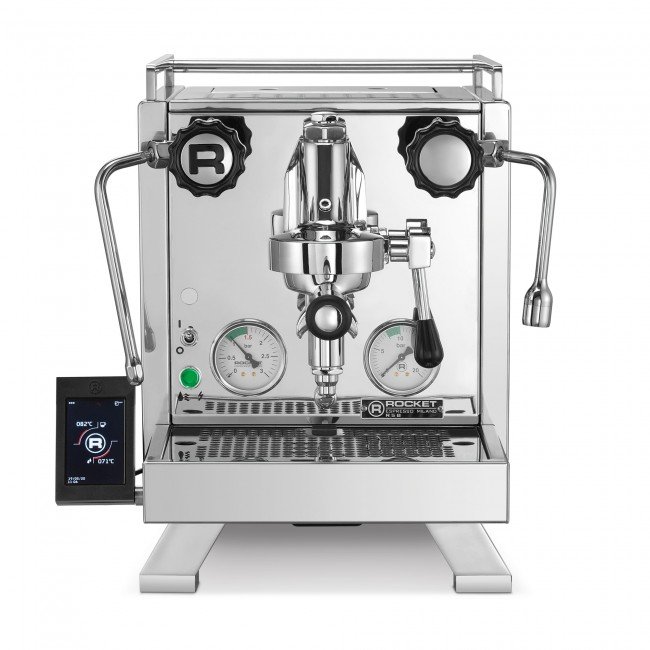 Updated Design - The exterior is redesigned With updated cup rail and legs.
Better Fitting - Adding a magnet to the water drip tray for better fit.
Shot Counter "Cronometro" - The R Cinquantotto features the Cronometro shot timer made famous by the Mozzafiato and Giotto machines. The Cronometro brings a digital display to the machine masterfully designed to retain the machine's retro asthetic.

External PID and Machine Controls - The temperature on the R Cinquantotto is PID controlled and can be manipulated via the Rocket Espresso communication pod that plugs into the side of the R58 Cinquantotto using a USB port.

Removable Communication Pod - to preserve the style of the machine that is Rocket Espresso.

Auto-On - Scheduled auto-on timing means your machine will be up (to temp) before you are every morning.
Dual Boiler - The R Cinquantotto features duel (0.58 and 1.8 liter) heavy-duty, insulated copper boilers. Brew and steam simultaneously with increased efficiency and zero loss of pressure with the R Cinquantotto . Insulation ensures the noise level will be kept to a minimum.
2.5 Liter Water Reservoir or Direct Plumbing - The R Cinquantotto comes with a 2.5-liter reservoir or you can also connect your R Cinquantotto directly up to your waterline with the included hardware. Easily switch back and forth between direct plumbed and reservoir with the flick of a switch. 
Pre-Infusion - To extract the full flavor and aroma when you brew your espresso, the R Cinquantotto has a dual pre-infusion system encompassing a working piston and static pre-infusion chamber.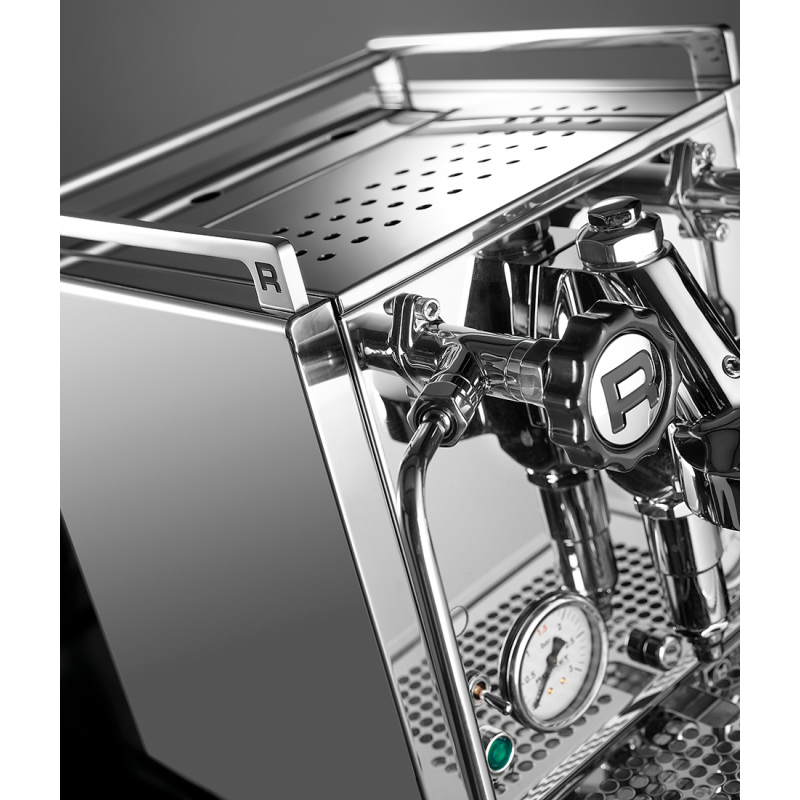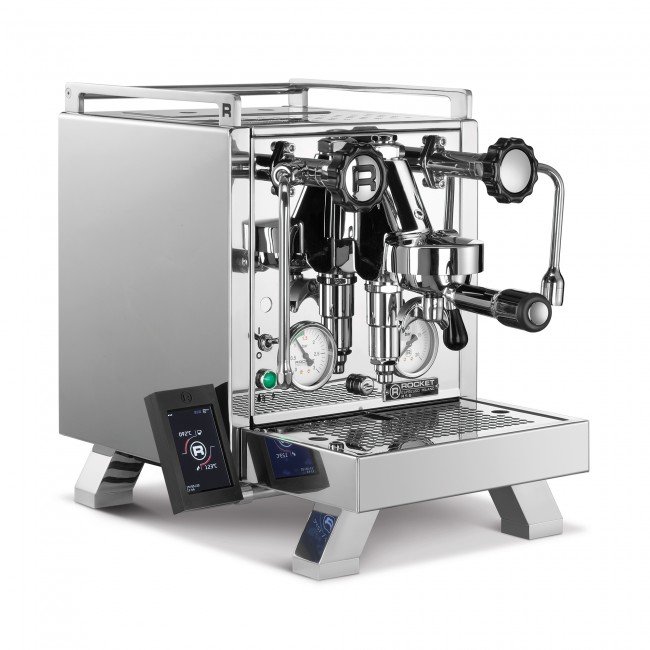 Dual PID Temperature Control - Manually control the temperature of your boilers with the convenient touch of a button. Customize your shots of espresso to your exact temperature specifications on the Rocket R Cinquantotto .
Commercial Rotary Pump - Quieter than most other rotary pumps, the R Cinquantotto's pump gives you the ability to adjust the pump pressure with the external pressure adjustment controls while monitoring through the pressure gauges.
Rocket Espresso Communication Pod - A detachable PID offers easy access to brew and steam temperatures and other machine settings.
Consistency - Shots and steam pressure to be incredibly consistent on an R Cinquantotto . Due to the fact that this machine is a dual boiler, each insulated copper boiler is dedicated to one function - either steaming or brewing.
Steam Pressure - The R Cinquantotto offers exceptional steam pressure. Looking for some latte art? The R Cinquantotto  will help you get that velvety-smooth milk texture you'll be needing.
Stainless Steel Cup Frame - new to the R Cinquantotto is the integrated stainless steel cup frame replacing the previous plastic one. The R Cinquantotto features curved lines while draped in stainless steel.
The connector for the external display (remote controller) must be used exclusively to connect the display (remote controller) and absolutely for nothing else.  Otherwise, the machine's electronics will be seriously damaged and warranty will become void.

This is the new version of the R58, now named R Cinquantotto, commonly known as V3 of R58.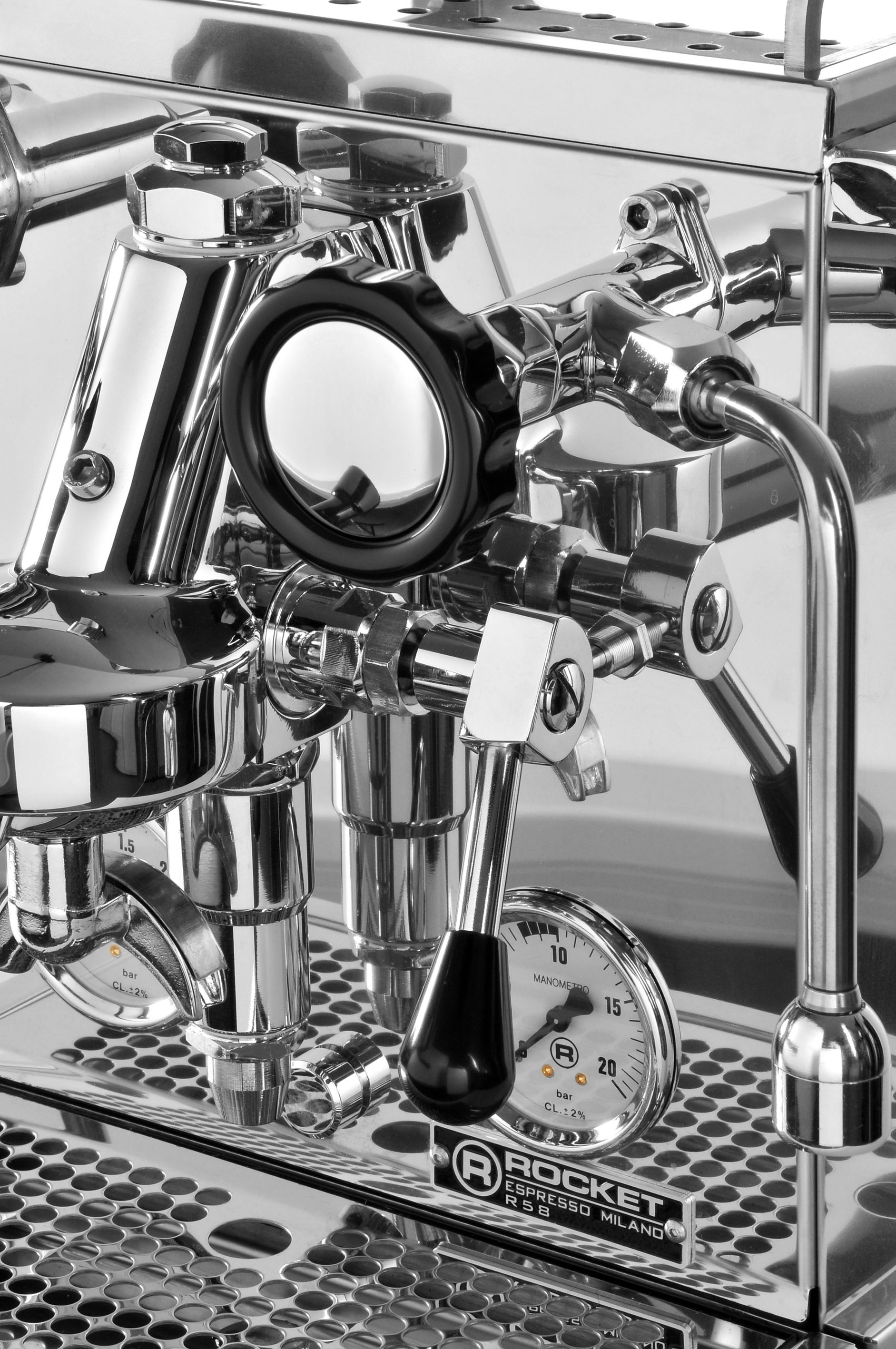 Eureka Olympus 75 Espresso Grinder
Eureka Olympus 75 Espresso Grinder
State-of-the-art 75 millimeter flat burrs in hardened steel pulverize beans at speeds impressive even against grinders double its price. Eureka has kept their standard one- and two-cup volumetric dosing controls and stepless adjustment dial for straightforward operation suited for the busiest cafe environments. The power-geared design is rounded out with subtle niceties like an adjustable portafilter holder and an anti-static coating for easy cleanup.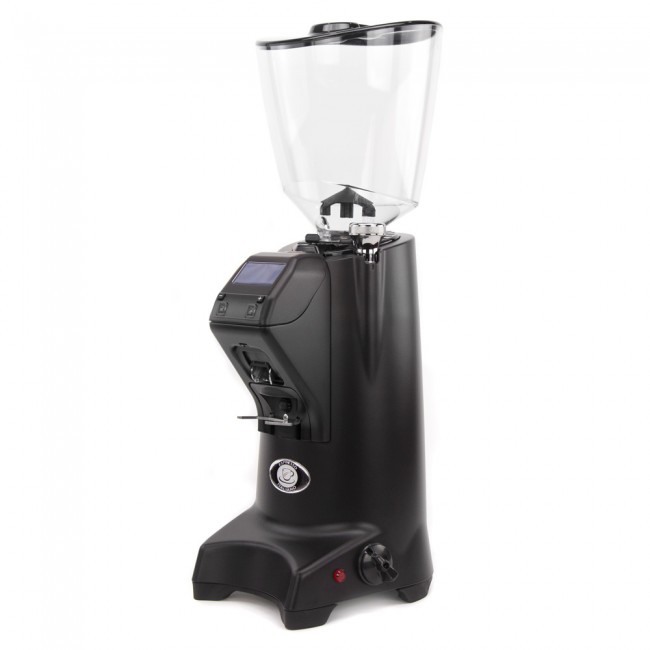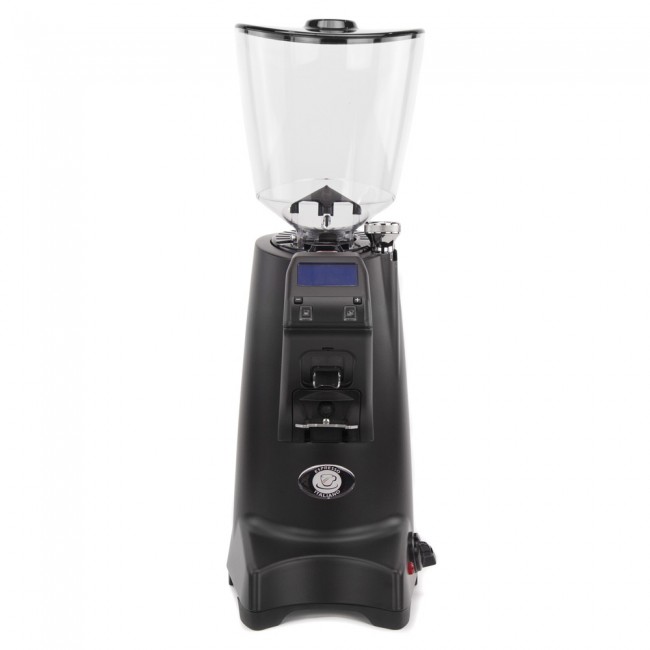 75 mm Flat Steel Burrs - The wide, aggressively cut burrs made short work of any blend.
Volumetric Programming - Dial-in your perfect single or double dose for extra consistency.
Bean Hopper Door - A sliding door closes off the hopper for easy removal and burr maintenance.
Stepless Adjustment - Infinite grind settings mean you can find just-right consistency.
Bottom Burr Adjust - Makes it easy to get into the burrs for cleaning while still remaining close to your last grind setting.
The Olympus 75E features an anti-static and anti-clumping device that eliminates electrostatic from the grounds, turning them as fluffy as they are consistent. The anti-static coating makes for easy cleanup, and an adjustable portafilter arm and chute help to reduce mess. Also, the included base plate will catch any grinds that miss the mark. 
The Olympus has single and double shot timed dosing controls, which can be programmed to dispense grounds on demand for even easier operation No need to navigate a menu, instead, simply select the dose you want to change, and press the plus or minus buttons until you reach the desired amount of coffee. It also has a feature to activate manual / continuous mode, plus a clever 'lock' feature if you wish to stop anyone altering the settings.