The one single thing you can do to improve your coffee is to grind fresh. By fresh we don't mean ground a month ago, or a week ago or even a day ago, we mean now! Only grind what you need to make the next cup of delicious coffee. There is no better smell than freshly ground coffee in the morning.
The Rhinoware Hand Coffee Grinder is the perfect solution for grinding coffee on-the-go. It's great for travel, work or even just at home.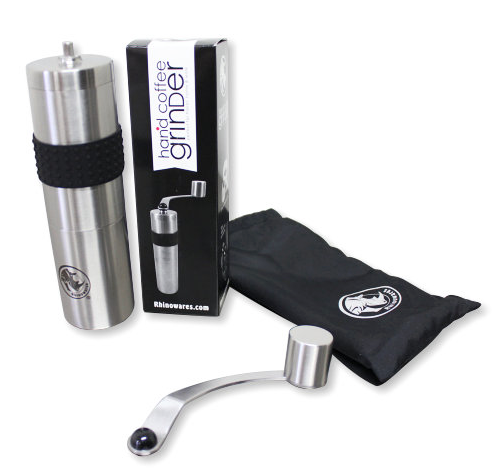 Quality food grade stainless steel housing making cleaning easy - also reduces static.
Tested and certified as food safe by an independent laboratory; peace of mind for you.
Conical ceramic burrs ensuring a clean grind - the burrs stay sharp longer, don't rust and are easier to clean.
A simple adjustment allows for a range of grind types.
Ample capacity - can hold up to 42 grams of coffee beans.
A convenient and protective carry bag.
Smooth grinding motion.
Superior particle size distribution.