| | | | | | | |
| --- | --- | --- | --- | --- | --- | --- |
| | Encore | Virtuoso | Sette 30 | Sette 270/270Wi | Forte/Vario Ceramic | Forte/Vario Steel |
| Espresso | 8 | 8 | 9 | 9E | 2Q | N/A |
| AeroPress | 12 | 12 | 13 | 13E | 4M | 2M |
| Hario V60 | 15 | 15 | 16 | 16E | 5M | 4M |
| Automatic Brewer | 18 | 18 | 25 | 25E | 7M | 6M |
| Chemex | 20 | 20 | 26 | 26E | 9M | 7M |
| French Press | 28 | 28 | N/A | N/A | 10M | 9M |
| | | | |
| --- | --- | --- | --- |
| | Encore | Virtuoso | Sette 30 |
| Espresso | 8 | 8 | 9 |
| AeroPress | 12 | 12 | 13 |
| Hario V60 | 15 | 15 | 16 |
| Automatic Brewer | 18 | 18 | 25 |
| Chemex | 20 | 20 | 26 |
| French Press | 28 | 28 | N/A |
| | | | |
| --- | --- | --- | --- |
| | Sette 270/270Wi | Forte /Vario Ceramic | Forte /Vario Steel |
| Espresso | 9E | 2Q | N/A |
| AeroPress | 13E | 4M | 2M |
| Hario V60 | 16E | 5M | 4M |
| Automatic Brewer | 25E | 7M | 6M |
| Chemex | 26E | 9M | 7M |
| French Press | N/A | 10M | 9M |
"Sette" or seven in Italian coincides with the design of this beauty. Shaped like a seven the Baratza Sette features 3 programmable timed dosing settings, an included portafilter holder and a unique burr setup, the Baratza Sette 270 is a true game changer. Baratza changed things up a bit with the Sette series by inverting the burr design. This allows coffee to fall directly into the portafilter at an unbelievably rapid pace. Able to grind 3.5 to 5.5 grams per second, depending on the grind, the Sette is the quickest grinder we've ever seen on the home espresso grinder market. A bit larger than previous Baratza models, the Sette will still fit seamlessly on any kitchen countertop. With an easily removable bean hopper, you can switch beans without spilling in seconds.
3 Programmable Settings - Programmable for time, the Sette 270 makes grinding easy and quick. Coffee grounds are dispensed at a quicker rate than any grinder on the market at the touch of a button. Simply program your grind, place your portafilter on the included stand, press the button and let your sette do the rest.

Easy, Efficient Hopper - A great, new hopper design allows for easy removal or switching of coffee beans. Change beans while still in the hopper with ease on the Sette 270. A rotating door allows you to remove the hopper without bean spillage.

Dual Adjust Grind Settings - Dial in your grinder with ease. This unique grind adjustment takes from both step and stepless grinders to help you dial in your grinder in minutes. Fine tune your settings with the micro-adjustment dial.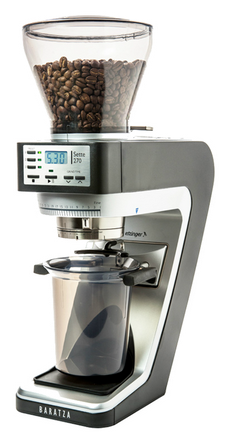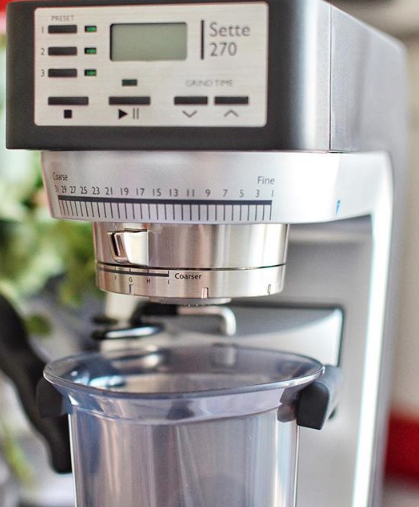 Fast - The Sette is without a doubt the quickest grinder we've seen when it comes to home espresso grinders. Able to grind 3.5 grams to 5.5 grams per second, depending on your grind, the Sette zooms past the competition.

New Burr Design - Baratza has made things interesting by inverting the burr design. Instead of the classic design where the inner burrs spin, the outer burrs do the work on the Sette 270.

Adjustable Portafilter Holder - The Sette 270 comes complete with rubber coated arms designed to hold your portafilter in place for hands free grinding. In addition, this feature limits the amount of grounds that are spilled. Instead, those grounds will flow directly into your portafilter.