Sanremo SR64 OD EVO Grinder
An efficient professional on-demand coffee grinder designed for food primary establishments like restaurants, bakery or even your coffee cornet at home! SR64 EVO mounts a 64mm flat burrs.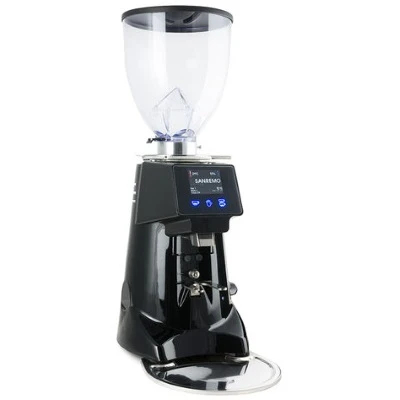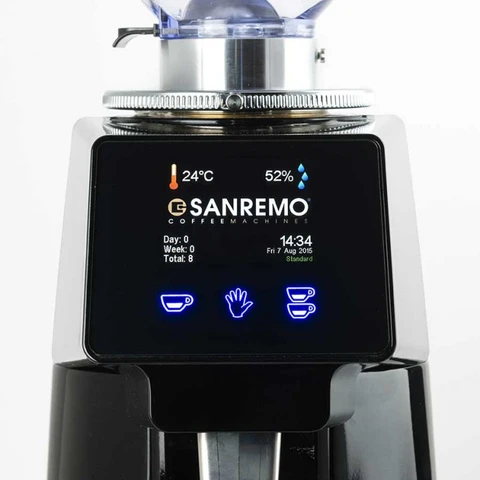 Selection Buttons - The control panel has three blue LED buttons for selecting the quantity required for grinding, single dose, double dose and continuous manual grinding.
Display - When the grinder-doser is switched on, the display shows the temperature, the number of coffees made throughout the day (Today), during the current week (Week) and the total, the percentage humidity, the time, the date and the grinding mode selected in green.
Coffee Dose Adjustment - Select the seconds for single grinding option and double grinding option.
Burr Replacement - When the grinding burr need to be replaced, a warning appears on the display.
Adjusting Grinding - In order to achieve finer or coarser grinding and therefore vary the granularity, you can use the adjustment disk located under the hopper. 
Adjustment Disk Lock - In order to prevent the adjustment disk from being removed, which would make the rotating parts accessible, there is an anti-unscrewing adjustment disk lock (safe) positioned under the adjustment disk.
Thermal overload protection - The grinder-doser motor is protected against overheating resulting from over currents by a thermal overload protection which, when tripped, cuts off the power supply to the motor.