The perfect partner for your choice of brew:
The very best taste always comes from using quality, freshly roasted coffee that's ground right before you brew. Coffee is at its peak flavor potential between 5-20 days after roasting, so always buy beans with a "Roasted On" date printed on the bag. Buying beans with a "Use By" or "Best Before" date makes it impossible to know when these were roasted. Always use a quality burr grinder, and grind right before you brew, just like the very best cafes.
Breville's conical burr Smart Grinder Pro uses Dosing IQ technology to automatically adjust the dose whenever you change the grind. Choose from 60 different grind settings to achieve maximum flavour potential to suit your favorite brew. Choose between 'cups' for French Press or Filter, and 'shots' for Espresso to get the right dose for your coffee's needs. You can even tweak for taste. Comes with two grinding cradles for dosing directly into espresso portafilters, plus an airtight storage container.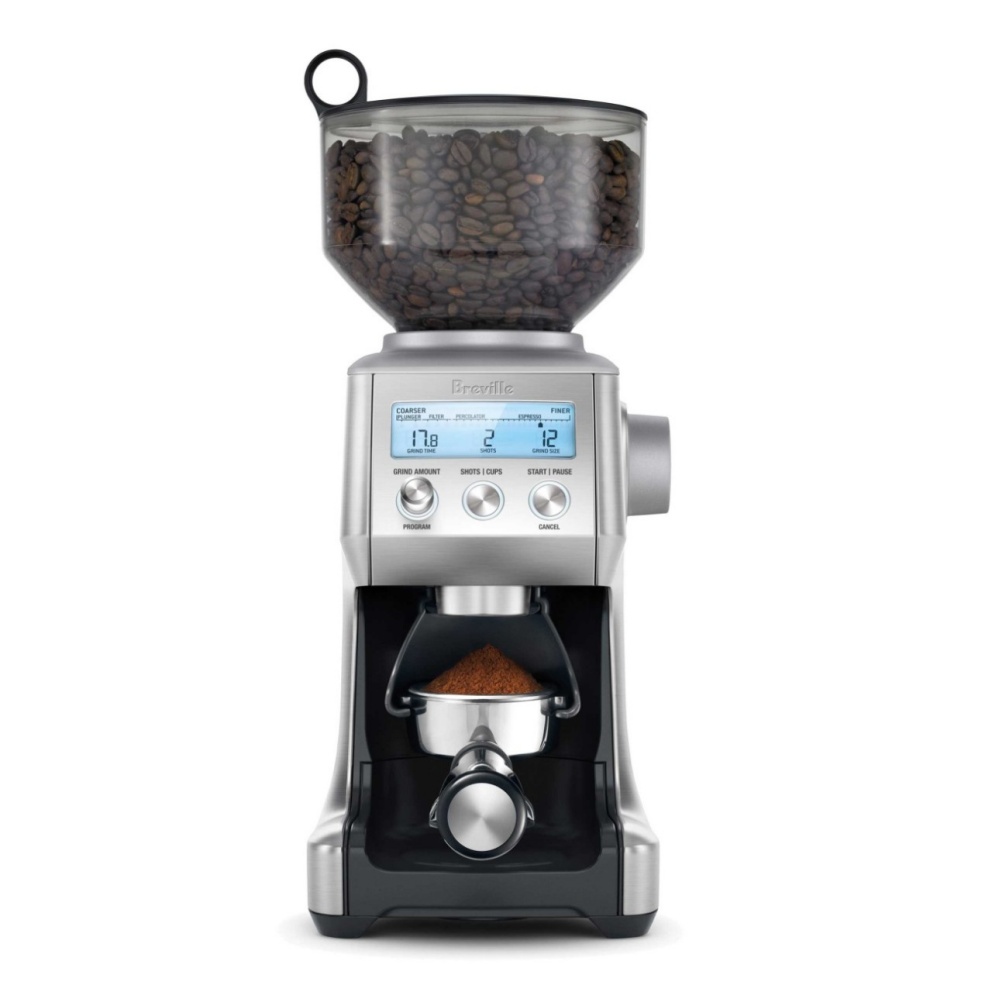 Grind Settings Galore! - With 60 different grind settings to choose from, you're sure to find the right grind no matter what you're brewing!
Adjustable Top Burr - By twisting off the top burr to manually adjust the grinders' default settings, you'll find you can grind to finer or coarser levels than the default calibration. We also recommend making this adjustment as it can extend the service life of your grinder.
Automatic Grinding - The Smart Grinder Pro provides a simple platform to support your portafilter for effortless activation of the auto-grind function–simply slide your portafilter under the grind chute and push it back until switch clicks.
Manual Grinding - Keep the activation button engaged with maintained pressure from the portafilter to take manual control over the grind time.
Removable Bean Hopper - Designed to contain 1 full pound of beans, this hopper features easy removal (one of the easiest we've ever used) with just a flip of the locking handle.
Pause Function - Pause the Smart Grinder Pro mid grind cycle to even out your portafilter. Once your grounds are evenly settled, hit the start button and the Smart Grinder Pro will grind through the remaining amount.
Programmability - The Smart Grinder Pro allows for an easy selection of your optimal grinding time per each shot within setting. Once your desired grind time is displayed on screen, hold the program button until the grinder beeps twice, letting you know your grind time is saved.