| | | | | | | |
| --- | --- | --- | --- | --- | --- | --- |
| | Encore | Virtuoso | Sette 30 | Sette 270/270Wi | Forte/Vario Ceramic | Forte/Vario Steel |
| Espresso | 8 | 8 | 9 | 9E | 2Q | N/A |
| AeroPress | 12 | 12 | 13 | 13E | 4M | 2M |
| Hario V60 | 15 | 15 | 16 | 16E | 5M | 4M |
| Automatic Brewer | 18 | 18 | 25 | 25E | 7M | 6M |
| Chemex | 20 | 20 | 26 | 26E | 9M | 7M |
| French Press | 28 | 28 | N/A | N/A | 10M | 9M |
| | | | |
| --- | --- | --- | --- |
| | Encore | Virtuoso | Sette 30 |
| Espresso | 8 | 8 | 9 |
| AeroPress | 12 | 12 | 13 |
| Hario V60 | 15 | 15 | 16 |
| Automatic Brewer | 18 | 18 | 25 |
| Chemex | 20 | 20 | 26 |
| French Press | 28 | 28 | N/A |
| | | | |
| --- | --- | --- | --- |
| | Sette 270/270Wi | Forte /Vario Ceramic | Forte /Vario Steel |
| Espresso | 9E | 2Q | N/A |
| AeroPress | 13E | 4M | 2M |
| Hario V60 | 16E | 5M | 4M |
| Automatic Brewer | 25E | 7M | 6M |
| Chemex | 26E | 9M | 7M |
| French Press | N/A | 10M | 9M |
The Forte-BG offers many of the features of the Forte-AP; however, it is designed solely for medium to coarse grind brewing methods. It uses a 54mm metal burr, rather than the ceramic burr in the Forte-AP.

The burrs are not interchangeable between the two grinders. It relies upon weight-based grinding; this is more efficient and effective in a variety of different settings. The Forte-BG is easier to operate and requires less training than the Forte-AP; however, it does not support fine grinds.

Commercial features in the both the Forte-BG and Forte-AP include a metal grinding chamber, threaded burr holder, larger gear-to-belt ratio and a higher-power motor. Both models offer quiet operation, with slow rotation to limit heat transfer. While designed for commercial use, these grinders are also an excellent choice for a high-quality home grinder.
54mm Flat Steel Burrs - Accurate grinding and proportionally high throughput are achieved with the Forte-BG's 54mm flat steel burrs. The grind range is between 500 to 1150 microns and the Forte-BG grinds at a rate of approximately 2.1g a second (at a fineness of 800 microns). The burrs help to produce an even grind with narrow particle distribution, resulting in superior coffee.

Grind Adjustment - The Forte-BG offers 230 unique settings suitable for coffee brewed with medium-to-coarse grounds. There are 10 macro, and 26 micro-adjustment settings, enabling you to dial in the exact grind to suit your preference. The adjustment dials are stepped, allowing you to easily achieve the same grind over and over again.

Hopper - With a capacity of 300g, the Forte-BG's hopper holds more beans than any other Baratza grinder. Dubbed the "Stopper Hopper" by Baratza, the Forte-BG's hopper is designed to reduce bean waste.

Digital Touchscreen Interface - With a digital touch screen control panel, operating the Forte-BG is a snap. The grinder can either be programmed for one-touch grinding, using preset specifications, based on either grind duration or weight. Alternatively, the grinder can be operated manually, so that you can start or stop as you please.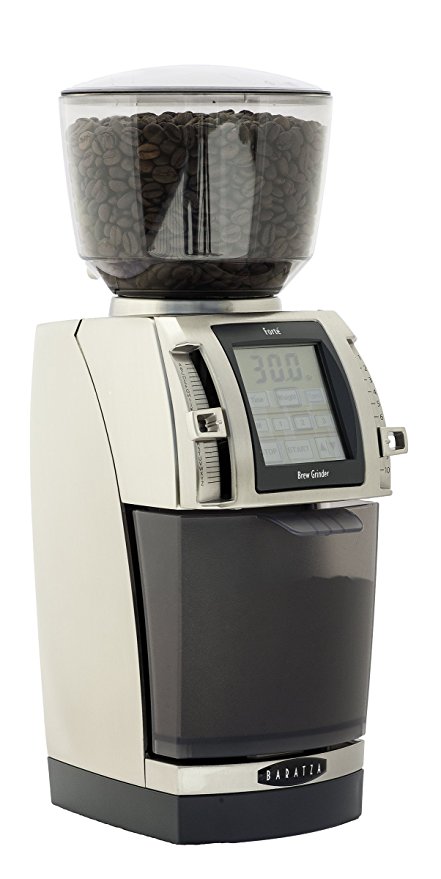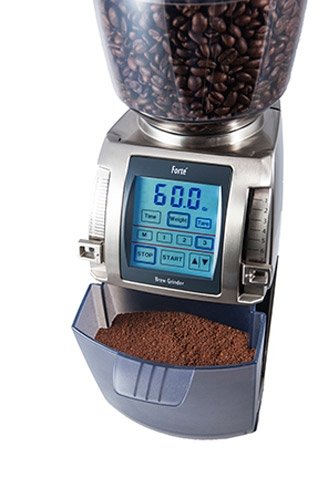 Motor - The new high-torque motor has 70% more power than the current Forte-BG model and grinds twice as long.

Calibration and Cleaning - Although the Forte-BG comes pre-calibrated for accurate grinding, the burrs are easily removable. This grinder comes with special tools for both calibration and cleaning, should you feel the need to.

Grounds Bin - The Forte-BG's removable, clear plastic grounds bin holds up to 8oz of ground coffee.

Zinc Burr Removal Tool - This high quality tool makes quick work of burr removal for regular maintenance.