The encore is the minimalistic and a price-friendly coffee grinder. The Encore will grind your grinds as precisely as it gets. It has a push button or auto-grind function for convenience. It has a removal hopper. It's what I use at home, every single day. Sure, it doesn't have some of the extra gimmicks than other coffee grinders has. But in terms of grinder for meticulous home brewers: there is nothing better than the Encore.
40mm Conical Burrs - The Encore is an ideal entry-level grinder for many different forms of brewing. Conical burrs are designed for maximum efficiency and consistency grinding anything from very coarse to very fine.
40 Grind Settings - The Encore is full of settings. Easily adjust the coarseness of your grind with the simple turn of a dial. The Encore can help you grind for any type of coffee on a consistent basis. Most popular brew methods for the Encore include Chemex, Aeropress and Siphon.
Attached Grounds Container - The Encore comes complete with an attached grounds container to help create a mess-free grinding experience. Simply set the timer and let the Encore do all the work for you.
Large Bean Hopper - For a grinder in this price point, the bean hopper on the Encore is fairly large. With a 0.5lb capacity, you'll rarely find yourself replacing and re-filling the hopper.
Quiet Gearbox - The Encore features Gearbox 2.0 from Baratza. Designed for optimal performance and a quiet operation, this gearbox is not only quiet but more shock resistant than previous models. Older boxes contained metal. Baratza changed the gearbox to contain thermal plastic, which drastically reduces the noise level of the encore.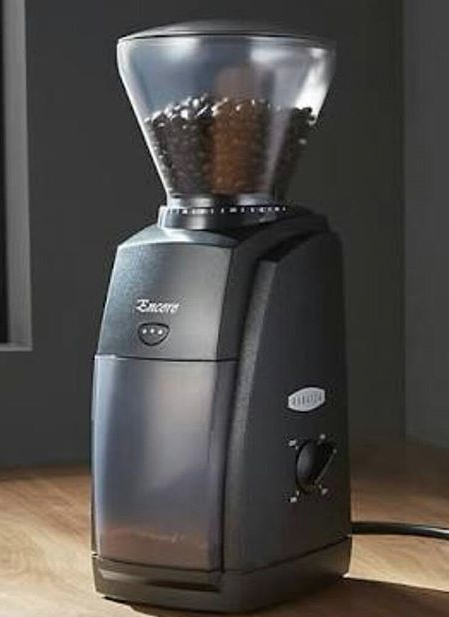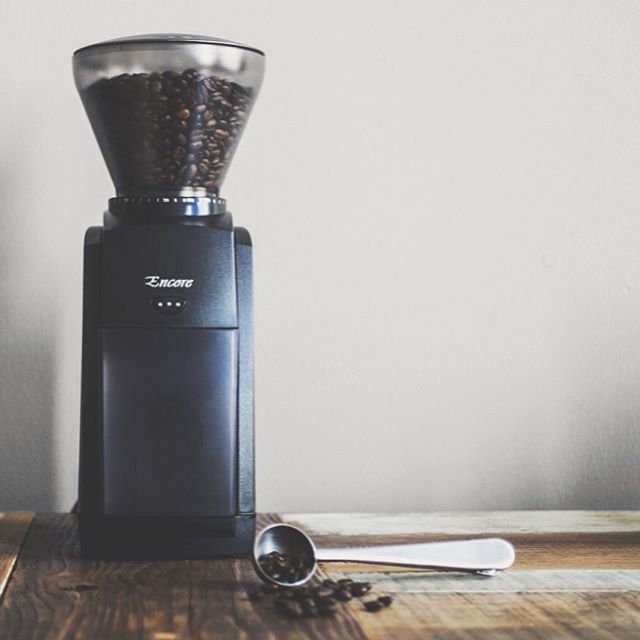 Powerful Motor, Quiet Operation - Powered by a high torque DC motor, the Encore will grind your beans with minimal heat transfer. The more heat transferred from your burrs to the beans results in lost flavors resulting in a weaker, duller cup of coffee.
Easy To Operate - The Encore is as simple as can be. Fully equipped with a timer, you can simply set it and let the grinder do all the work.
Compact - Like most Baratza grinders, the Encore's size is perfect for any kitchen or coffee bar. It's small enough to leave on your counters without taking up too much space or store in any cabinet.
Minimal Cleanup - The burrs on the Encore are easily removed and cleaned.
| | | | | | | |
| --- | --- | --- | --- | --- | --- | --- |
| | Encore | Virtuoso | Sette 30 | Sette 270/270Wi | Forte/Vario Ceramic | Forte/Vario Steel |
| Espresso | 8 | 8 | 9 | 9E | 2Q | N/A |
| AeroPress | 12 | 12 | 13 | 13E | 4M | 2M |
| Hario V60 | 15 | 15 | 16 | 16E | 5M | 4M |
| Automatic Brewer | 18 | 18 | 25 | 25E | 7M | 6M |
| Chemex | 20 | 20 | 26 | 26E | 9M | 7M |
| French Press | 28 | 28 | N/A | N/A | 10M | 9M |
| | | | |
| --- | --- | --- | --- |
| | Encore | Virtuoso | Sette 30 |
| Espresso | 8 | 8 | 9 |
| AeroPress | 12 | 12 | 13 |
| Hario V60 | 15 | 15 | 16 |
| Automatic Brewer | 18 | 18 | 25 |
| Chemex | 20 | 20 | 26 |
| French Press | 28 | 28 | N/A |
| | | | |
| --- | --- | --- | --- |
| | Sette 270/270Wi | Forte /Vario Ceramic | Forte /Vario Steel |
| Espresso | 9E | 2Q | N/A |
| AeroPress | 13E | 4M | 2M |
| Hario V60 | 16E | 5M | 4M |
| Automatic Brewer | 25E | 7M | 6M |
| Chemex | 26E | 9M | 7M |
| French Press | N/A | 10M | 9M |