The Nuova Simonelli MDX Coffee Grinder is a commercial coffee grinder suitable for high consumption. The Robur will be your grinding workhorse throughout the day, with Its 65mm special steel burrs, bean hopper capable of holding up to 2 pounds of beans and beautiful stainless steel body guarantees a grinder that will last and prepare beans consistently. A 290 watt motor quickly produces grounds for a single shot of espresso in just under 2.7 seconds and about 9kg of coffee in just an hour.
The MDX also contains stepless adjustment making this grinder perfect for preparing beans for all types of coffee.
Micrometric Grinding Adjustment - This system goes beyond the traditional intermediate settings, allowing extremely precise grind size.
Stepless Adjustment - Manually control the grind of your beans. Stepless grinders allow the user to play around/experiment with different grinds to find your ideal setting. Adjustable by turning a knob, there are an infinite amount of grind settings.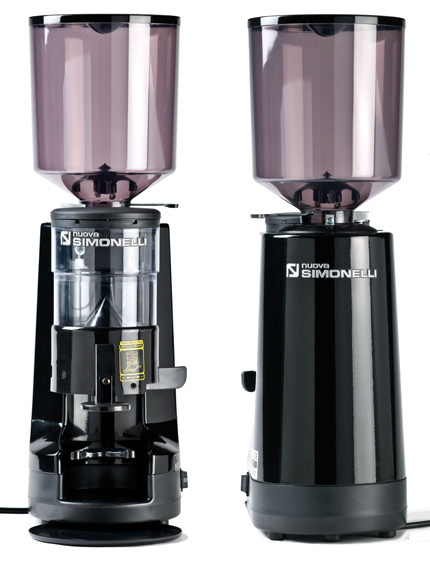 Doser - With ground coffee passing through the doser area and the cylinder shaped conveyor distributing the grounds from one compartment to another, it reduces the static and clumps from grinding.
65mm Steel Burrs - Long lasting grinders using new technology, special steels. They are solidly built for an efficient grind and designed to be flexible enough to absorb the vibration. Nuova Simonelli grinders also prevent heat transfer to the ground coffee, so there is no effect on the main organoleptic features of the coffee. The doser has an external regulator on the bottom to adjust the amount of grounds that are dispensed with each pull of the ergonomic rubber-coated doser lever.
The Professional Choice - With the ability to adjust the grind and the quantity of the coffee, the MDX grinder is designed for locations with standard volumes, with a daily production up to 2 lbs of coffee.
External Dosage Adjustment - The amount of coffee dosed per shot is visible directly from the dispenser, making it easier to adjust the amount of coffee in the filter.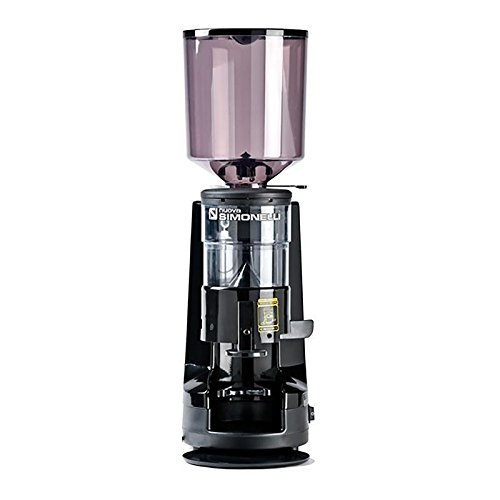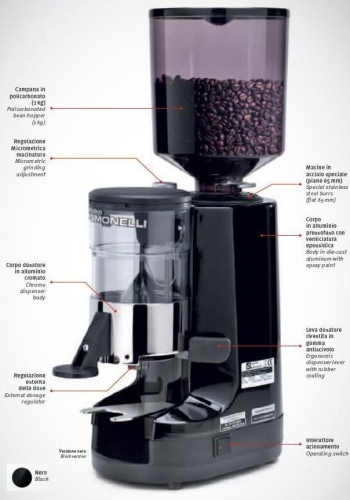 Durable - Built from the finest and strongest materials, Nuova Simonelli grinders are built to last and withstand with the added benefit of keeping the grinder as quiet as possible.
High Capacity - The MDX is built to produce. It features a large hopper and a low RPM motor so you don't have to worry about running out of grinds during the busy morning rush.
Large Bean Hopper - A large hopper design with a punch. The MDX can hold up to 2 pounds of beans at any given time. The design of the hopper allows for maximum mobility while also saving space. In addition, the bean hopper can be removed while beans are still inside. Switching beans has never been easier.