| | | | | | | |
| --- | --- | --- | --- | --- | --- | --- |
| | Encore | Virtuoso | Sette 30 | Sette 270/270Wi | Forte/Vario Ceramic | Forte/Vario Steel |
| Espresso | 8 | 8 | 9 | 9E | 2Q | N/A |
| AeroPress | 12 | 12 | 13 | 13E | 4M | 2M |
| Hario V60 | 15 | 15 | 16 | 16E | 5M | 4M |
| Automatic Brewer | 18 | 18 | 25 | 25E | 7M | 6M |
| Chemex | 20 | 20 | 26 | 26E | 9M | 7M |
| French Press | 28 | 28 | N/A | N/A | 10M | 9M |
| | | | |
| --- | --- | --- | --- |
| | Encore | Virtuoso | Sette 30 |
| Espresso | 8 | 8 | 9 |
| AeroPress | 12 | 12 | 13 |
| Hario V60 | 15 | 15 | 16 |
| Automatic Brewer | 18 | 18 | 25 |
| Chemex | 20 | 20 | 26 |
| French Press | 28 | 28 | N/A |
| | | | |
| --- | --- | --- | --- |
| | Sette 270/270Wi | Forte /Vario Ceramic | Forte /Vario Steel |
| Espresso | 9E | 2Q | N/A |
| AeroPress | 13E | 4M | 2M |
| Hario V60 | 16E | 5M | 4M |
| Automatic Brewer | 25E | 7M | 6M |
| Chemex | 26E | 9M | 7M |
| French Press | N/A | 10M | 9M |
The Baratza Forte AP is a versatile grinder can be used commercially as well as in your home. The Baratza Forte AP is a precision grinder capable of grinding for all types of coffee (drip, french press, espresso, etc.). Featuring an upgraded motor, a touch screen display, weight based dosing and 54mm ceramic flat burrs, the Forte AP is Baratza's most diverse grinder.
54mm Ceramic Burrs - Ceramic burrs, compared to metal burrs, increase the lifespan of your grinder as they very rarely need to be changed. By decreasing the amount of heat transferred from the burrs to your beans, not only will your grind be better but the engine will last longer.

LED Touch Screen - Baratza has added an LED touch screen to the Forte AP grinder. It's easy to read and even easier to program. Programmable to three settings of your choice, you can program by weight (increase of decrease by 0.1 grams) or time (increase or decrease by 0.1 seconds).

230 Programmable Settings - With dual cam grinder adjustment you can easily fine tune your grind. With more than 230 possible levels, the Forte is one of the most versatile grinders in its price range.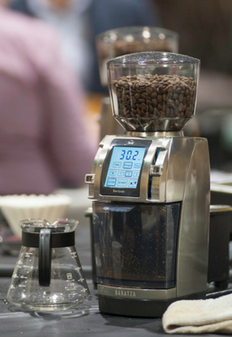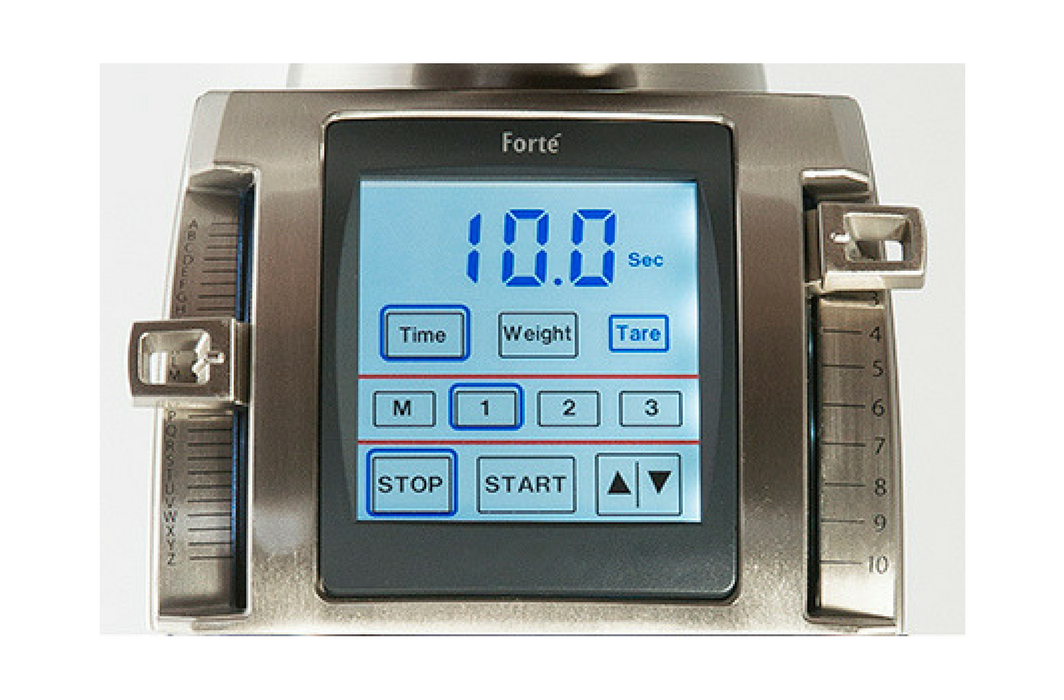 Strong Yet Powerful Motor - The Baratza Forte AP features a motor 70% more powerful than previous models.

Portafilter Holder - Included. Hands free grinding has never been easy. Simply place your portafilter on the designated holder, press your pre-programmed settings and sit back - the Forte AP will take it from there.

Hopper Stopper - Easily switch means without making a mess.