The robust, versatile and professional coffee solution
A super automatic espresso machine strongly designed for small offices and busy homes. If you're familiar with JURA, you already know how innovative each new machine can be. The X8 Platinum adds to that imaginative lineup and brings some new features of its own to the automatic espresso making stage.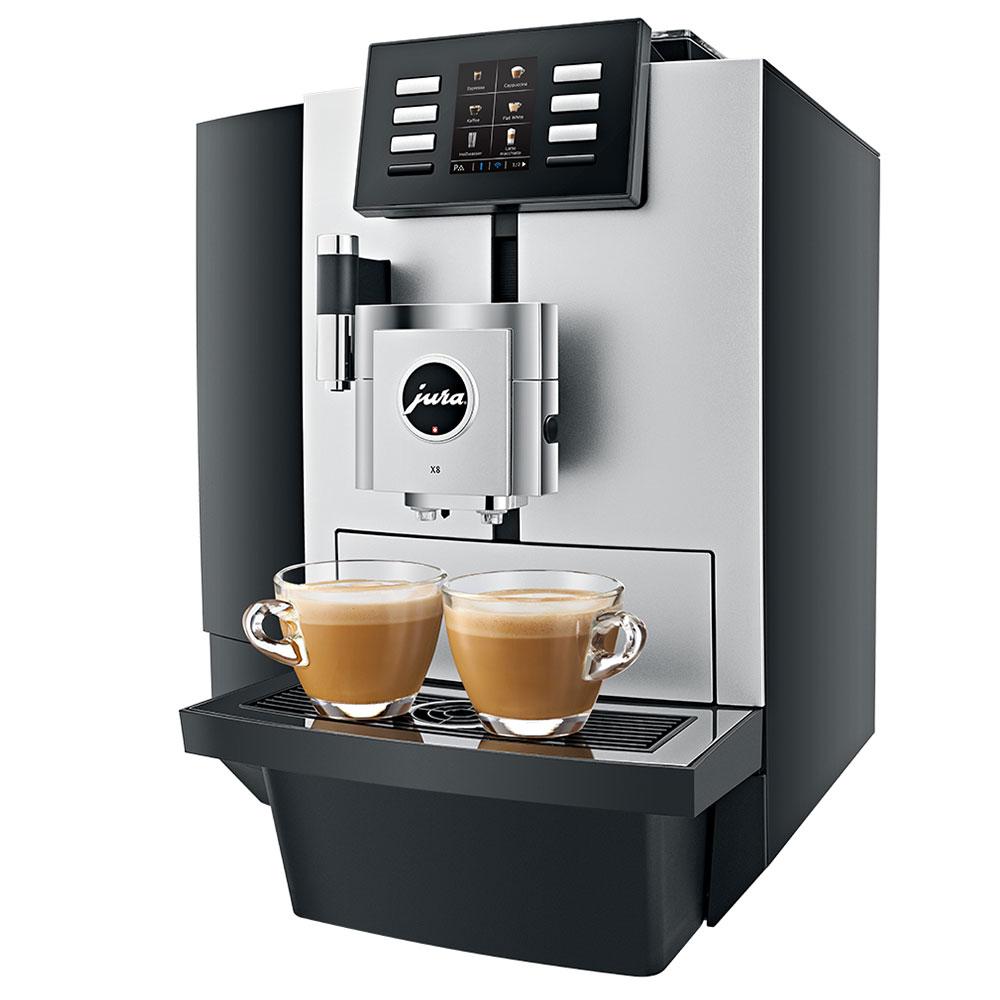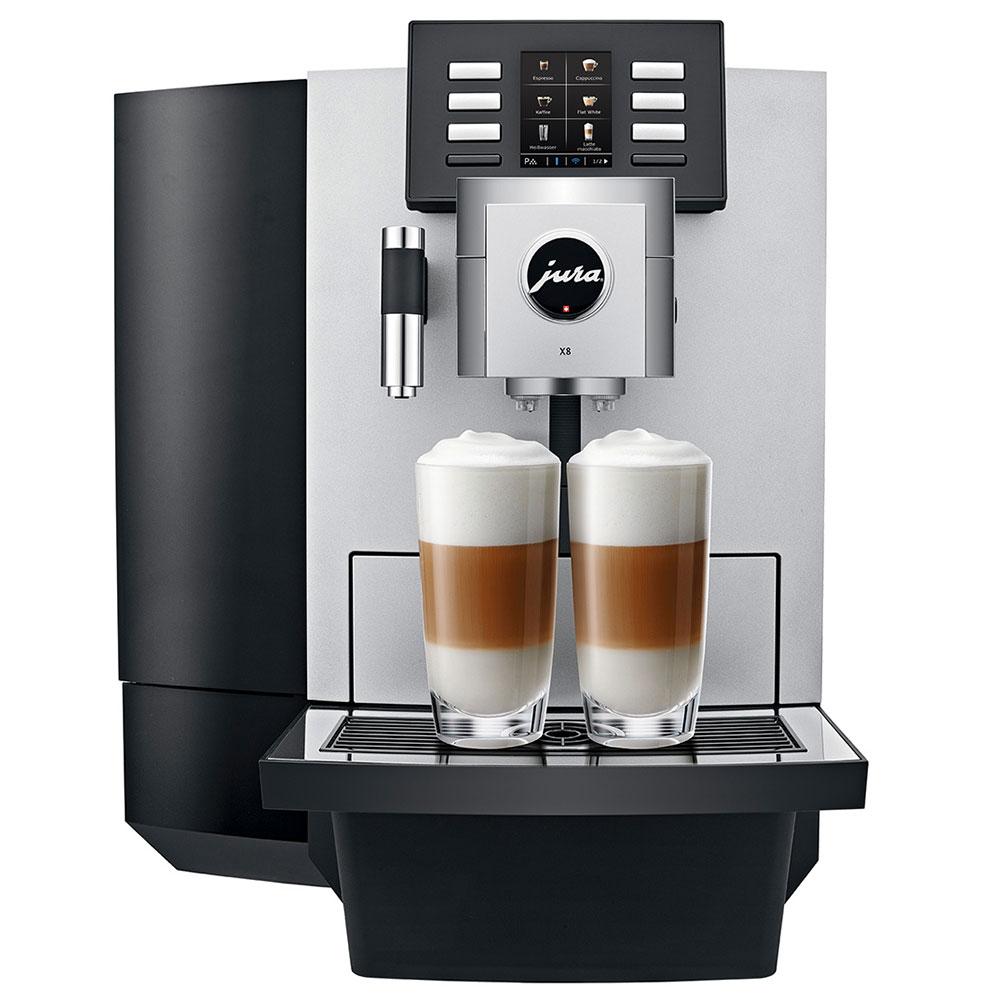 Each drink recipe takes under two minutes to create meaning you can spend less time waiting, and more time enjoying you day and flavorful cup pf coffee.
Whether you're pouring into a travel tumbler or an espresso glass, the adjustable spout can be altered to fit each personalized style of cup.
The X8 features a 5 L water reservoir and a 500 g hopper. Both the hopper and reservoir can be locked with an included key. The dreg drawer can hold 40 servings before you need to empty it out.
Expect 21 pre-programmed products that can each be customized for strength, temperature, volume.
The X8 Platinum can pull two milk drinks simultaneously. Expect to cut wait times in half for homes and offices with lots of latte lovers.
The P.E.P system is vert effective! The P.E.P. brewing system can brew a very tasty and amazing cup of coffee.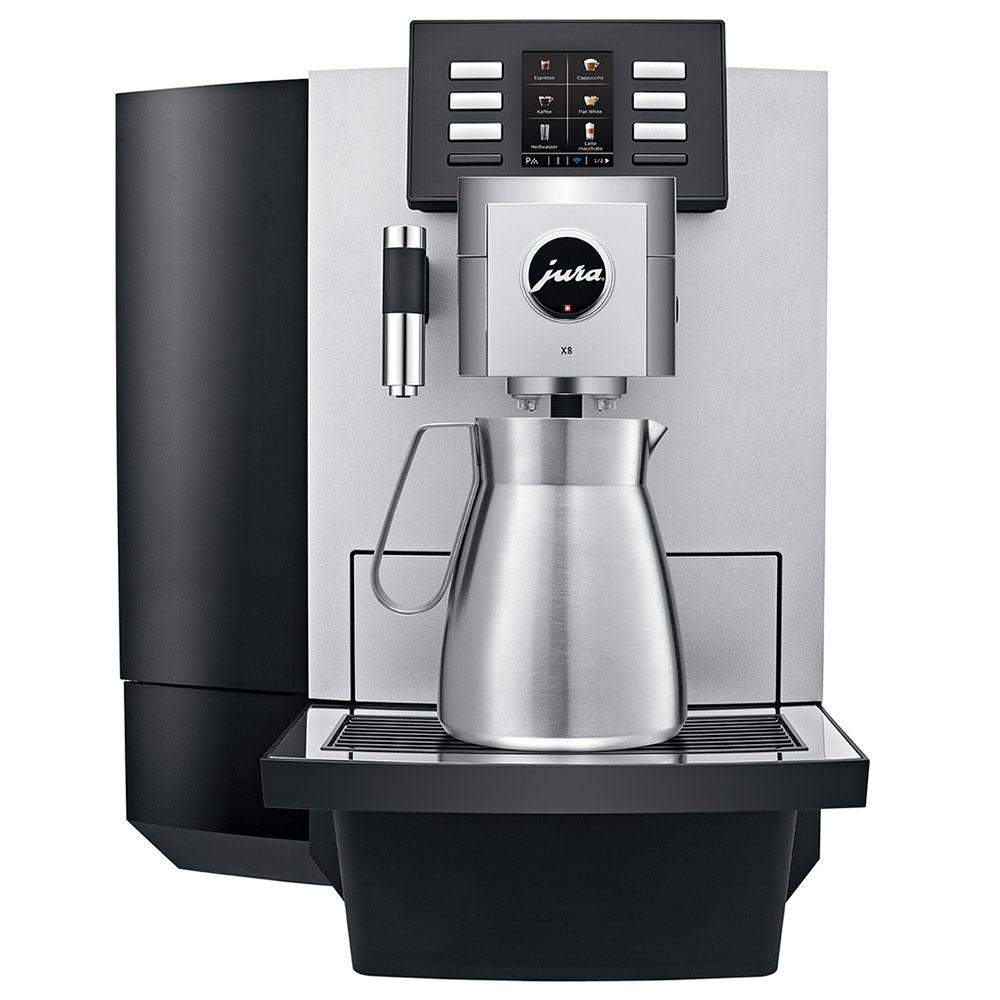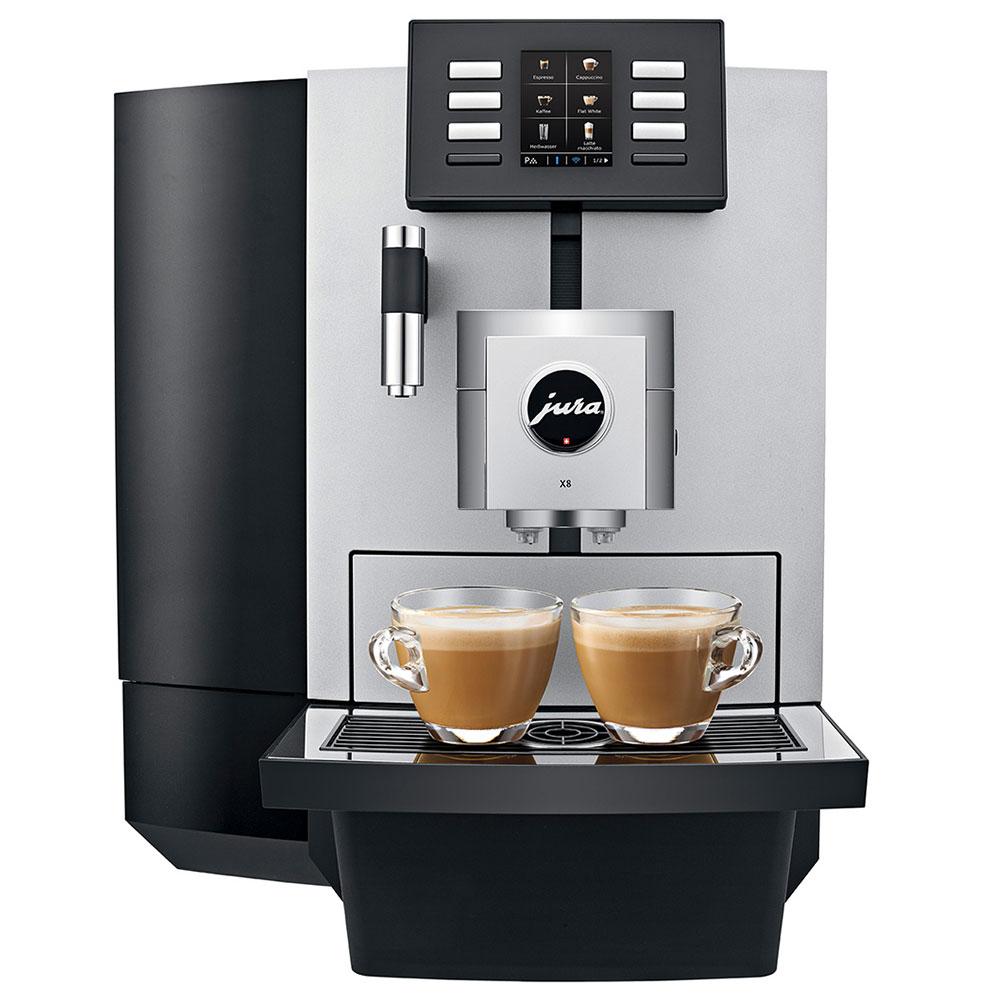 2 drinks at once - Any recipe can be brewed simultaneously into two separate cups, side by side.
5 Liter water tank - Built to support a whole office of coffee loving employees, the Jura X8 rarely needs the water tank refilled.
Automatic milk rinse - Any time milk is used in your coffee recipe, the machine will automatically clean itself.
10 levels of coffee strength - Select the level of strength for your morning cup with precise clarity.
Aroma preservation lid - The Jura X8 features an aroma preserving seal so that all 500 grams of coffee stored inside are kept fresh and delicious.
2 x Espresso – A full-flavored concentrated form of coffee served in "shots" (usually 45 -60 ml).
2 x Coffee – A long pressure brewed extraction (usually 120-160 ml).
2 x Cappuccino – Milk foam infused with coffee.
2 x Caffè latte – Strong coffee blended with milk.
2 x Latte macchiato – Milk and foam infused with coffee.
2 x Flat white – Coffee layered with milk and topped with milk foam.
2 x Portion of milk – Hot milk with no texture.
2 x Portion milk Foam – Hot milk mixed with air to create a frothy texture.
2 x Special coffee – A long pressured brewed extraction (usually 190 ml).
Pot of coffee – Grind, tamp, brew and self-clean for multiple coffees as a one-touch function.
Hot water – Ideal for other teas and herbs
Hot water for green tea – Ideal for green, white and herbal teas.