A powerful super-automatic machine capable of brewing and steaming all your favorite espresso and milk-based drinks. This one-touch machine is rated to produce a respectable 30 drinks a day, making it perfect for a small office or home entertainer.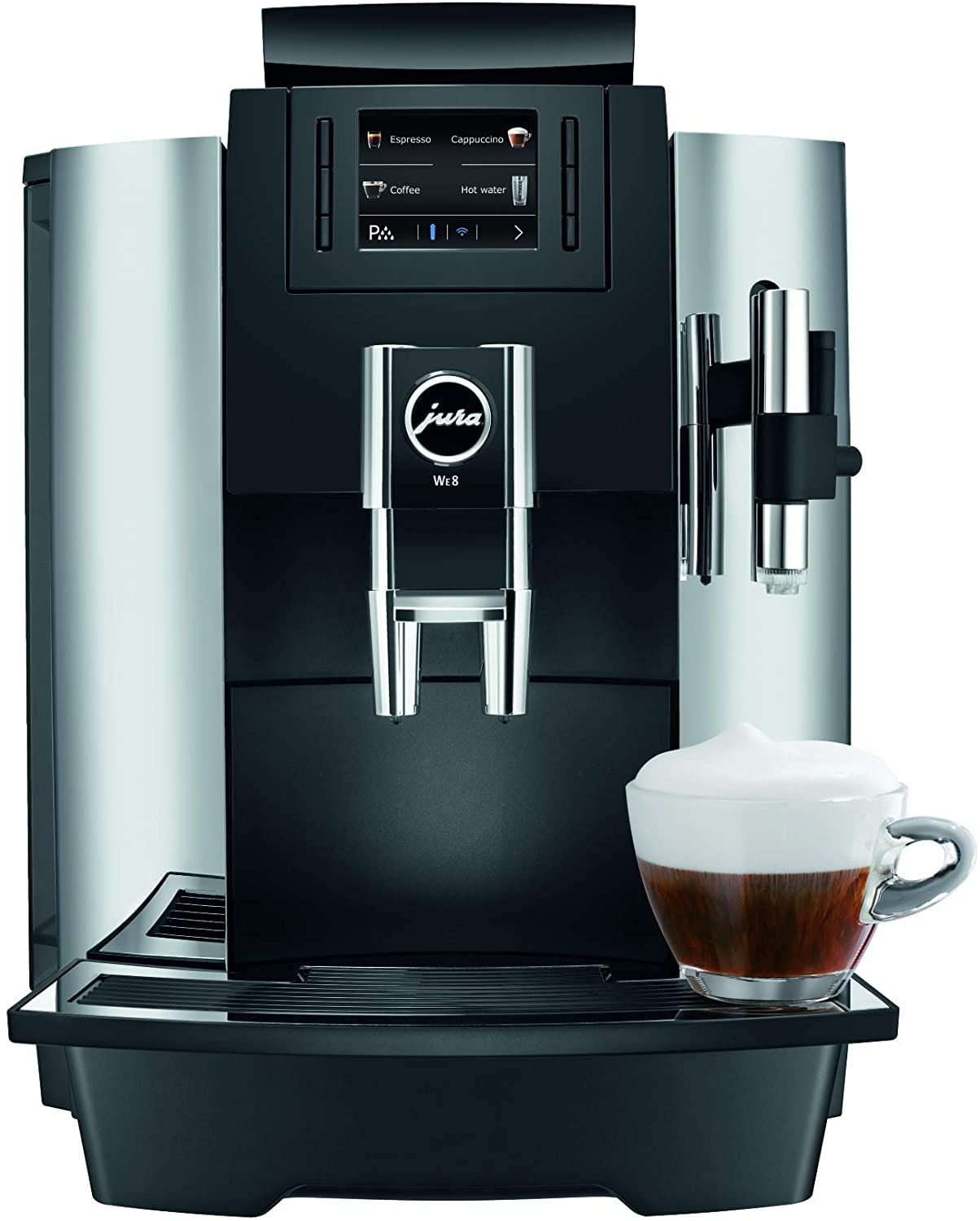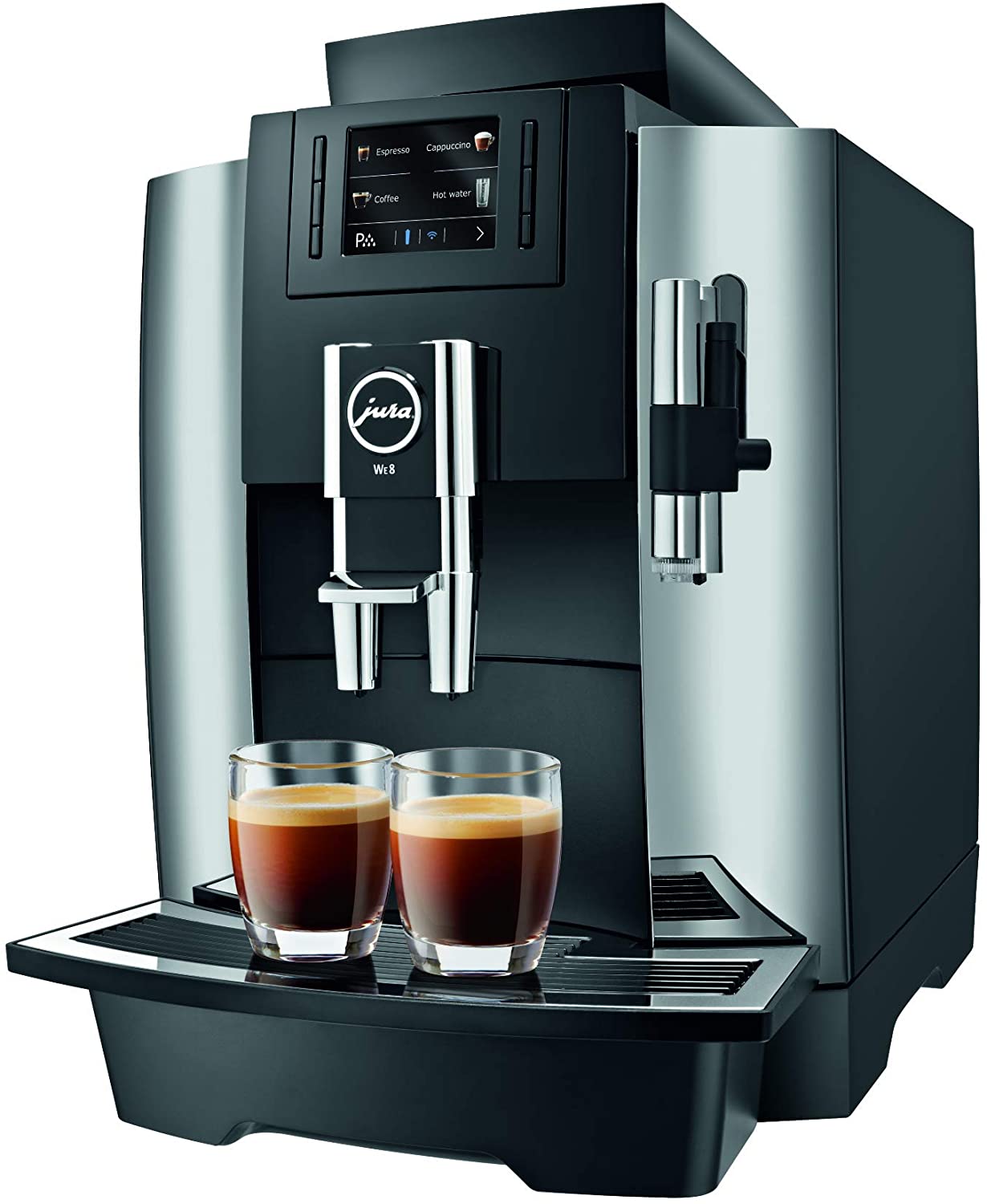 Intelligent Pre-Brew Aroma System (I.P.B.A.S)
The Variable Brewing Unit lets you prepare your drinks with anywhere from 5-16 grams of coffee, and JURA's Intelligent Pre-Brew Aroma System pre-infuses those grounds before brewing to ensure the best possible extraction. You can also make adjustments to the coffee temperature and volume for each individual drink.
Pulse Extraction Process (P.E.P.) Brewing
The WE8 employs JURA's innovative Pulse Extraction Process brewing system. As opposed to a constant flow, water is instead pulsed through the grounds in short intervals that extract greater intensity and aroma while shortening the overall brew time. With P.E.P., espresso and ristretto can be prepared with greater clarity and flavor than ever before.
Intelligent Water System (I.W.S.)
JURA's Intelligent Water System makes use of RFID technology to automatically detect when the WE8 has been fitted with a filter. The CLEARYL Smart / Pro Smart water filter protects against limescale, chlorine, and heavy metals in your water to preserve the flavor of your coffee and extend the WE8's lifespan. Simply install it in the 1.8 L reservoir and the I.W.S. will do the rest.
JURA's Aroma G3 grinder ensures quiet, even, and super fast grinding. The grinder can be adjusted to one of seven fineness settings to affect the overall extraction time, and features a refined burr set with cutting angles that have been perfected for more even grinding and higher efficiency. An integrated bypass doser allows for pre-ground coffee brewing, too.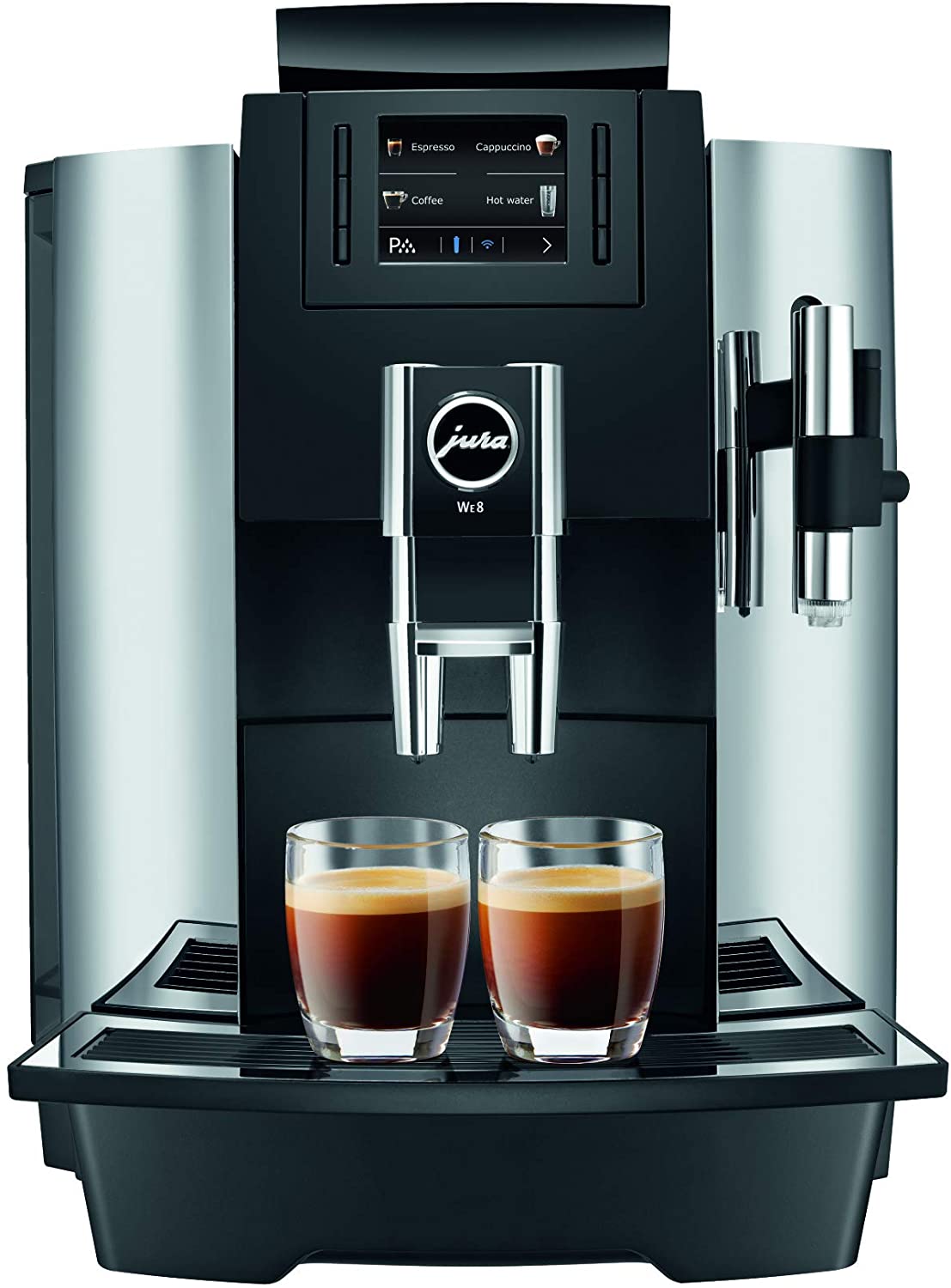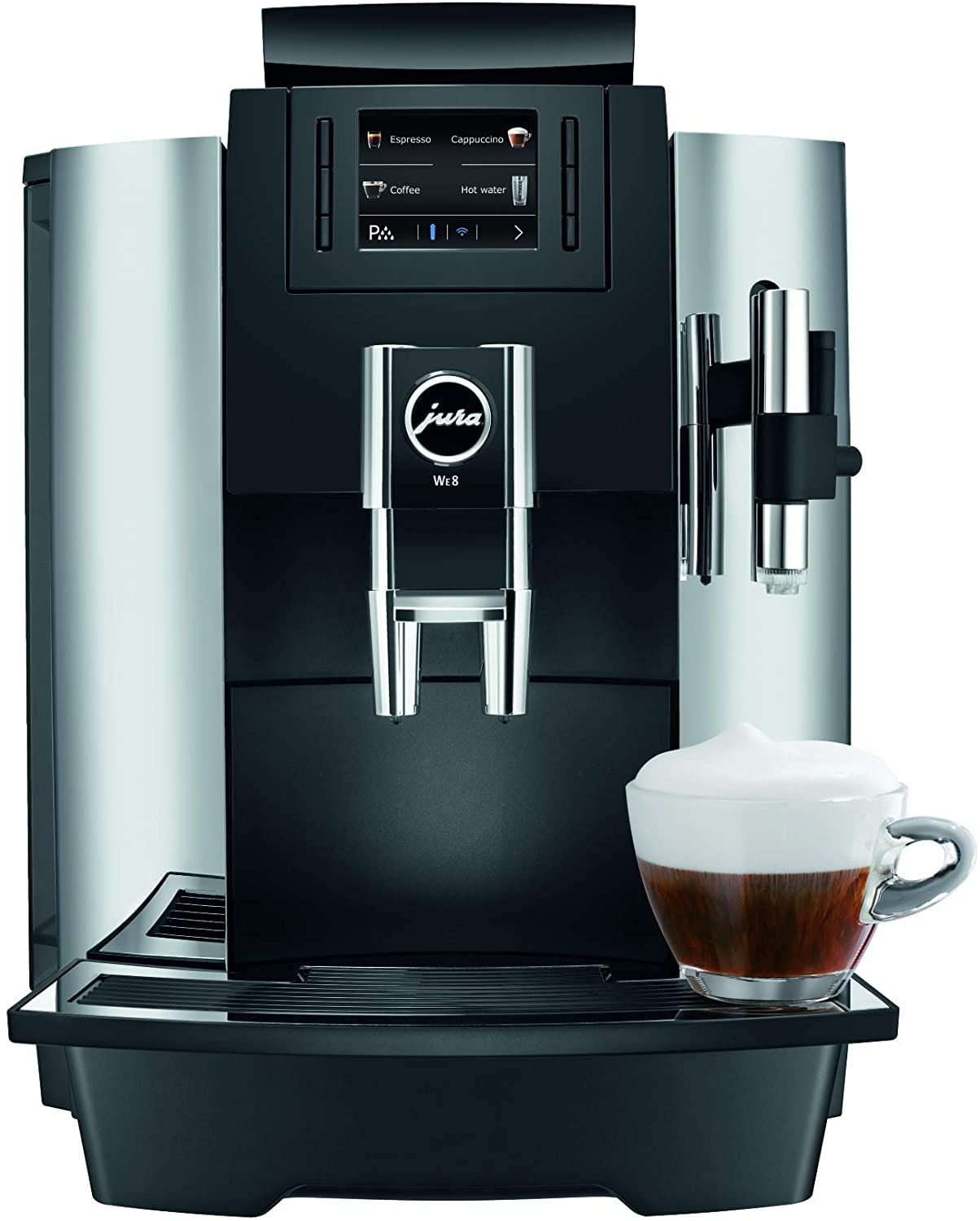 Professional Coffee - JURA's exclusive Pulse Extraction Process (P.E.P.) optimizes extraction time to brew professional quality, barista-style coffee.
Ultimate Milk Foam - The One-Touch function on the WE8 allows you to make trend specialties finished with milk and milk foam at the touch of a button, without having to move the cup.
Complete Customization - The amount of ground coffee and water can be adjusted to suit personal preferences; it is also possible to disable beverages to limit milk drinks and only offer coffee drinks.
Easy Maintenance - Integrated rinsing and cleaning programs combined with specially developed cleaning products for JURA coffee machines ensure perfect hygiene at the touch of a button.
Individual cup brewing - Automatically grinds whole beans, tamps and freshly brews each cup for optimum flavor and aroma
One-touch preparation - Prepares perfect coffee specialties at the touch of a button, in less than 60 seconds
Perfect milk foam - Produces perfectly rich milk foam for one-touch cappuccino, latte macchiato or flat white.
Ristretto / 2 x Ristretto: A shorter extraction than espresso with half the amount of water (usually 30 ml or less)
Espresso / 2 x Espresso: A full-flavored, concentrated form of coffee served in "shots" (usually 45 ml - 60 ml)
Coffee / 2 x Coffee: A long pressure brewed extraction (usually 150 ml)
Flat White: Coffee infused with milk and milk foam
Cappuccino: Milk foam infused with coffee
Latte macchiato: Milk and milk foam infused with coffee
Portion milk: Hot milk with no texture
Hot water: Ideal for other teas